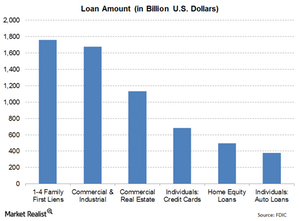 How did loan types fare in 2014?
By Saul Perez

Updated
Six main loan types
Giving loans is a primary revenue earning activity of banks. But not all loans are equal. Some loans are safe while others earn more interest income. In the United States, there are six loans in the biggest and most important loan categories.
1-4 Family First Liens. These are normal mortgage loans taken by individuals to buy a house. The property is collateral, so these loans have lower rates.
Commercial and Industrial. These are loans taken by businesses for their establishments. They are considered safe because of institutional backing.
Commercial Real Estate. These are loans taken by corporations for real estate.
Individual Credit Cards. These are loans taken on credit cards by individuals. They have higher rates since they have no collateral.
Home Equity Loans. These are loans in which the home acts as collateral. These are generally taken for personal needs.
Individual Auto Loans. These are loans taken by individuals to buy an automobile.
Article continues below advertisement
Auto loans witnessed the fastest growth in 2014
Out of these six main types of loans, the individual auto loan was the fastest growing segment in 2014. This loan segment also witnessed intense completion. Ally Financial (ALLY) dethroned Wells Fargo (WFC) to reclaim its top billing in 2014. Auto loans were primarily driven by strong demand, low rates, and banks relaxing lending criteria to gain customers. The sector growth was nearly 10.5%. Capital One Financial (COF) grew the fastest, while JPMorgan (JPM) grew the slowest.
Other loans also remained impressive
1-4 family liens continued to be the largest loan segment. It's the segment where Wells Fargo continued to show strong growth. US Bank, a part of the Financial Select Sector SPDR (XLF), also remained strong in this large segment. Individual credit cards also showed impressive growth. Nonperforming loans were also the lowest in this segment.