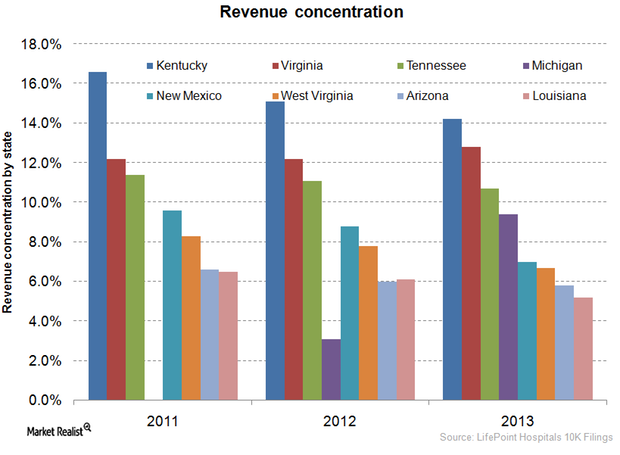 LifePoint Hospitals' geographic strategy
By Margaret Patrick

Jan. 26 2015, Updated 8:19 a.m. ET
Market strategy
The performance of the healthcare industry, represented by the Health Care Select Sector SPDR Fund (XLV), is dependent on the location and geographic concentration of facilities. For-profit hospital operators such as HCA Holdings (HCA) and Universal Health Services (UHS) have facilities that serve mainly urban communities, while Community Health Systems (CYH) and LifePoint Hospitals (LPNT) dominate the non-urban and rural marketplace.
Article continues below advertisement
Key markets
The above graph shows the states from which LifePoint Hospitals earns the majority of its revenues. You can see that from 2011 to 2013, the company tried to gradually reduce its excessive reliance on key markets in Kentucky, Tennessee, New Mexico, West Virginia, Arizona, and Louisiana, while developing a new market in Michigan.
LifePoint Hospitals' geographic strategy is to provide medical and surgical services in mainly non-urban markets. It's the sole healthcare provider in some rural communities.
In rural markets, a substantial portion of the patients who require acute-care services are moved to other hospitals in urban areas. To avoid this outflow of patients, LifePoint Hospitals has identified new service lines that are needed and has been recruiting physicians to operate these service lines.
Rural markets
Despite weaker economic growth in the non-urban communities, LifePoint Hospitals has benefitted from its rural market strategy. The implementation of the Affordable Care Act provisions, and specifically Medicaid expansion, has increased the percentage of low-income people with health insurance. Out of the 21 states in which LifePoint Hospitals operates, seven states, accounting for 35% of LifePoint Hospitals' indigent patient population, have opted for Medicaid expansion.
The percentage of LifePoint Hospitals' self-paying patients, high-probability candidates for bad-debt expenses, declined by 30% in 2014 as compared to 2013. This is a direct result of greater health-plan coverage in the regions served by LifePoint Hospitals.