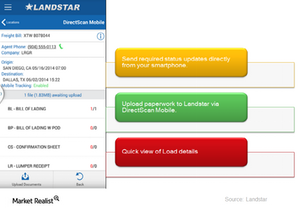 Landstar: A successful blend of technology and operations
By Ally Schmidt

Updated
Dedicated to technology
Landstar (LSTR) has always been a technology-savvy company, investing in developing and maintaining a leading-edge communication system. Its proprietary software applications enable the company's unique network of independent sales agents to deliver complete transportation capacity and logistics services to shippers worldwide.
Landstar uses a highly centralized database system called The Board. The Board provides the company's vast network of truckers with information on all possible permutations regarding what needs to be shipped, where, and when. On the other hand, the company's customers who want their goods transported quickly and efficiently will also have their needs posted on The Board.
Truckers who are conversant with The Board can quickly figure out the most efficient and lucrative routes to take. These routes may entail picking up and dropping off merchandise at numerous points between the origin and destination sites, and then back again.
Landstar also uses the power of accurately linking databases from various industry sectors and geographies to its servers. The company is able to pass 100% of the fuel surcharges billed to customers to its BCOs by the large volumes of transactions.
Article continues below advertisement
Mobile app
Landstar took a step forward by launching its own mobile application for its BCOs and carriers. This new app is available across various OS platforms and provides several important features for all capacity providers.
Major players in this industry include J.B. Hunt Transport (JBHT), Old Dominion Freight Line (ODFL), and Werner Enterprises, Inc. (WERN). Some of these companies are part of the First Trust Industrials/Producer Durables AlphaDEX Fund (FXR).