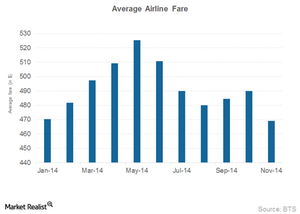 International airfare declines higher compared to domestic fares
By Teresa Cederholm

Updated
Airfares and yields
Airfares, the price charged by airlines for passenger tickets purchased for air travel, combined with the miles traveled, determine the airline yield. An individual passenger's yield is calculated by dividing the ticket price by the distance traveled. For the airline, yield is calculated by dividing passenger revenue by revenue passenger miles. An analysis of trends in airfare movements is important to understand yield trends for airlines.
Article continues below advertisement
Airfare trends
According to Airline Reporting Corporation (or ARC), the average airline fare decreased by 4.2% to $469 in November, compared to $490 in October. The decrease in the average international fare was greater than the decrease in domestic fares. International fares declined by ~8% to $719, and domestic fares decreased by 2.6% to $363 in November.
Despite the decline in crude oil prices, major airlines in US have been increasing their airfares. According to FareCompare, Delta Air Lines and American Airlines hiked their airfares by up to $10, mostly in selected routes. Plus, United Airlines (UAL) increased its fares six times during the year.
However, each airlines' fare hike was successful just once. JetBlue hiked its fares just once in October, but failed to create an impact. A fare hike initiated by one carrier is considered successful if all airlines follow the initiator in increasing prices. Otherwise, the initiator will have to withdraw or reverse the hike in order to avoid losing passengers to its competitors.
Passenger yield growth of major US airlines
In 3Q14, the passenger yield (fares paid per passenger per mile) of all major airlines except Alaska increased. Delta's (DAL) yield was $17.16 in 3Q14, the highest among its peers, but its year-over-year growth in yield (1.8%) was lower than United's (UAL) ~4% and American's (AAL) 3.5%.
The yield for low-cost carriers such as Southwest (LUV) and JetBlue (JBLU) has not varied much. A higher yield results in higher unit revenue, which leads to higher profitability if costs don't increase. Increased airline profitability improves returns from ETFs such as the iShares Transportation Average ETF (IYT) that hold shares of airline companies.