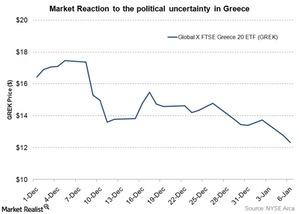 Greece in crisis: January 25 elections will decide future
By Surbhi Jain

Aug. 18 2020, Updated 6:19 a.m. ET
Political crisis in Greece: A quick flashback
As Market Realist suggested in an earlier series, the political crisis in Greece is serious and could impact your investments in the Eurozone.
In this series, we'll update you on the current political and economic situation in Greece. We'll also analyze the stock and bond market performance in Greece in recent years, to determine how such critical events impact investor returns.
Article continues below advertisement
Economic momentum in Greece
Much like in Italy and Spain, the economy in Greece has shown subdued performance over the years, to say the least. Momentum in the country needs to pick up, as economic conditions in Greece have only worsened following the crisis.
Greece is seeking a bailout extension, but this will only be made possible if it agrees to the "troika's" conditions—mandatory economic reforms. The European troika consists of the European Central Bank, the European Commission, and the International Monetary Fund. The reforms the troika would impose include a set of austerity measures that are now the focus of much heated debate in Greece. Can the country afford to accept the measures? Can it afford not to? These are the questions at the root of the current political crisis.
What happened on December 9?
On December 9, 2014, Greek Prime Minister Antonis Samaras took a sudden and market-moving decision to move up the presidential vote by a month and a half. The news affected the Global X FTSE Greece 20 ETF (GREK), which lost 207 basis points, or 12%, between December 8 and 9, 2014. The announcement also had repercussions on investments in Europe such as the Vanguard FTSE Europe ETF (VGK), the iShares MSCI EMU ETF (EZU), the SPDR EURO STOXX 50 ETF (FEZ), and the iShares Europe ETF (IEV).
A snap presidential election followed, with results in on December 29, 2014. There will now be an early general election on January 25, 2015.