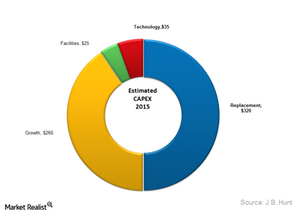 What factors can impact J.B. Hunt's growth?
By Ally Schmidt

Updated
High leverage
J.B. Hunt (JBHT) projected 2014 capital expenditure, or capex, at $660 million. This spending on capex should have been reflected in the margins' expansion. In contrast, the margins actually contracted in the first half of the year. The margins showed improvement in the third quarter.
Article continues below advertisement
In 2015, JBHT expects to spend almost the same amount on capex. However, there are concerns regarding the company's efficient use of expenditure. The concerns are due to various issues with regulations in the industry. This high leverage could backfire on the company. It could lower JBHT's margins and asset utilizations.
Other risks
The driver shortage is placing upward pressure on wages and recruiting costs. Other regulations are leading to lower driver and asset utilization.
The company's intermodal division and transportation costs depend heavily on the performance of the firm's partner Class I railroads.
Railroads' inability to retain and improve service levels could jeopardize the Intermodal segment's growth.
The truckload industry maintains significant exposure to self-insured liability insurance. This could add to earnings' volatility if high safety levels aren't maintained.
Freight volumes depend on the growth of the domestic economy, inventory levels, and consumer spending.
The industry has intense competition and low entry barriers. The inability to maintain service and scale differentiation could increase price competition and deteriorate margins.
JBHT's competitors—like Sirva (SRVA), Old Dominion Freight Line (ODFL), and Universal Truckload Services (UACL)—may also end up exploring such opportunities. Some of these companies are part of the First Trust Mid Cap Growth AlphaDEX Fund (FNY).
In the next part of this series, we'll look at JBHT's major competitors.