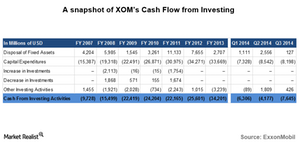 ExxonMobil's rising investment cash flow isn't necessarily good
By Manas Chowgule, CFA

Dec. 4 2020, Updated 10:53 a.m. ET
Rising cash flow
In the previous part, we discussed ExxonMobil's (XOM) cash flow from operations (or CFO), which reflects a company's cash generating abilities.
In this part, we'll discuss XOM's cash flow from investing activities (or CFI). We say "from," but items under this type of cash flow are usually negative, implying expenditure.
CFI mainly includes the capital expenditures (or capex) that a company makes towards growing its business. It also includes the asset acquisitions that a company makes.
Occasionally, a company may sell some of its assets, in which case this shows up as a positive number—a source of cash.
Article continues below advertisement
Capex
Over the last seven years, XOM has been steadily increasing its capex—ordinarily an encouraging sign, which means the company has been investing towards growth. But, juxtaposed against its tepid oil and gas production numbers, this reflects the uphill battle energy companies like ExxonMobil have been facing in order to grow.
XOM will release its capex plans for 2015 in March. Crude oil prices have more than halved since July 2014.
Cash flow from investing
Companies often raise money for their investments from asset sales. These, in combination with capital expenditures and acquisitions, help a company reorganize its assets and steer its businesses.
ExxonMobil raised a cumulative ~$36.5 billion from asset sales in the last seven years and ~$3.8 billion over the first three quarters of 2014.
Putting its sources and destinations of investing related cash flows together, we see that XOM, on balance, has been spending increasing amounts of its earned cash on investing activities over the last seven years. It made net investments of ~$18 billion in the first three quarters of 2014. During the same timeframe, competitors Chevron (CVX), Royal Dutch Shell (RDS.A), and BP (BP) invested ~$23 billion, ~$13 billion, and ~$14.5 billion, respectively, on a net basis.
The two big spenders—XOM and CVX—are the top two holdings of the Energy Select Sector SPDR Fund (XLE). It's a great way to gain low-cost, diversified exposure to premier US energy companies.
The next part of this series explores XOM's cash flows from financing activities—the primary source of external capital for a company and a sort of buffer that connects its operating cash flows to its investing activities and returns to shareholders.