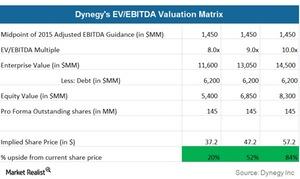 Is Dynegy's stock available cheap?
By Matt Phillips

Nov. 20 2019, Updated 3:11 p.m. ET
Valuation
In this series, we've analyzed Dynegy Inc. (DYN) on various operational and financial levels. Now let's look at Dynegy's current valuation of its shares in the market compared to its peers'. Since Dynegy's net income is negative, EV (enterprise value) to EBITDA (earnings before interest, taxes, depreciation, and amortization) is a better measure for valuing Dynegy.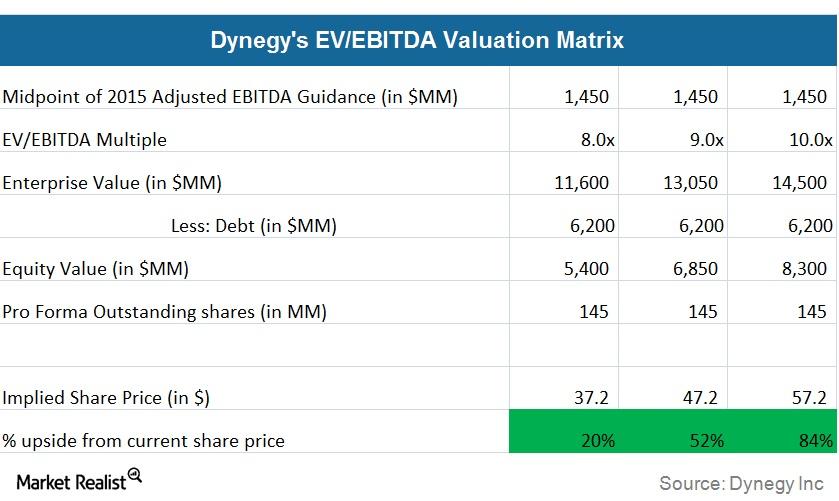 Article continues below advertisement
Dynegy's upside potential
The acquisition of power generation assets from Duke Energy (DUK) and Energy Capital Partners could be a game changer for Dynegy. As mentioned in the previous article, it will enhance Dynegy's EBITDA significantly going forward.
Dynegy currently trades at $31.03 per share. Taking midpoint of the EBITDA estimate of fiscal year 2015, that's $1,450 million, and an EV/EBITDA multiple of 8x to 10x shows a big upside in Dynegy's stock.
At a conservative valuation of 8x EV/EBITDA multiple for fiscal year 2015 EBITDA, Dynegy's implied share is calculated at $37.2. This is 20% higher than the current market price of Dynegy's share. The upside increases as aggressive EV/EBITDA valuation multiples of 9x and 10x are used. At 9x and 10x EV/EBITDA multiples, the upside to Dynegy's stock from current market prices is 52% and 84%, respectively.
Direct peers NRG Energy (NRG) and Calpine Corporation (CPN) currently trade at an EV/EBITDA multiple of 10.1x and 9.2x, respectively. NRG Energy is part of the Utilities Select Sector SPDR (XLU).
A note of caution
The upside rationale in Dynegy's value is based on the fact that the acquisition will result in increased EBITDA for Dynegy. The deal still awaits regulatory approval, and the transaction is yet to be completed. So a failure in the closure of the deal nullifies the above calculated upside in Dynegy.
Also, the forecast EBITDA used in the calculation is highly sensitive to wholesale power prices. A drop in wholesale power prices in key markets in which Dynegy operates will lead to lower EBITDA forecasts for fiscal year 2015. This will result in lower upside potential for Dynegy.