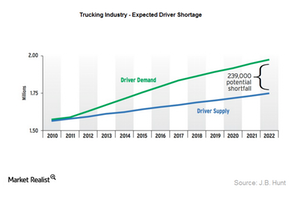 Driver shortage will likely have a negative impact on J.B. Hunt
By Ally Schmidt

Dec. 4 2020, Updated 10:53 a.m. ET
Challenges in the industry
The trucking industry faces a number of challenges in the future—apart from the fiscal pressure that's being felt across all of its segments. In this part of the series, we'll analyze one of the most important challenge—driver shortage. We'll discuss how it could impact J.B. Hunt (JBHT).
Article continues below advertisement
Driver shortage
Today, one of the biggest challenges for the trucking industry is driver shortage. There aren't enough experienced drivers. The lack of drivers is due to an aging workforce, demand for higher pay, bonuses, and tightening regulations.
Driver shortage is expected to have a negative impact on JBHT. The situation is expected to get worse in the future. The demand will likely far exceed the supply during the economic upturn. According to the American Trucking Association, or ATA, ~96,000 new drivers are required annually to keep pace with demand. If freight demand grows as expected, the annual driver shortage could balloon to nearly 240,000 by 2022.
Trucking companies that could be impacted include JBHT, Celadon Group (CGI), Landstar System (LSTR), and USA Truck (USAK). Some of these companies are part of the iShares Transportation Average ETF (IYT).
For the past ten years, JBHT's labor cost decreased. It reduced from 32% in 2003 to 25% in 2013. However, this trend may change in the future. If JBHT isn't able to pass on its labor cost to its customers, its profitability will decrease.
So, while it's true that trucking companies are going to have a hard finding drivers for their trucks, it's going to be a great time to be a driver!