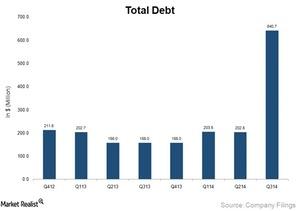 DHT Holdings' debt and credit facilities are well spread
By Katie Dale

Updated
Interest-bearing debt
As of September 30, 2014, DHT Holdings (DHT)—including Samco—had interest-bearing debt totalling to $519.9 million. This includes DHT credit facilities of $203.5 million priced at different LIBOR[1. the London interbank offered rate] rates. The Samco credit facilities stood at $316.5 million priced at different LIBOR rates. Certain of the Samco credit facilities have been swapped to fixed interest rates. Interest is payable quarterly in arrears (except a $44.9 million credit facility, which is payable semi-annually in arrears).
Article continues below advertisement
Industry (SEA) peers like Teekay Tanker (TNK), Nordic American Tanker (NAT), Frontline (FRO), and Tsakos Energy Navigation (TNP) recorded one-year interest expense growth of -16.3%, 19.6%, 16%, and -14%, respectively, in the latest reported quarter. Comparatively, DHT recorded interest expense growth of 137.5%.
Credit facilities
In February 2014, DHT Holdings entered into a credit facility for up to $50.0 million with DNB Bank as lender and DHT as guarantor for the financing of the acquisition of two vessels, the DHT Falcon and DHT Hawk. Borrowings bear interest at a rate equal to LIBOR + 3.25% and are repayable in 20 quarterly installments of $1.0 million from May 2014 to February 2019 and a final payment of $29.0 million in February 2019. The credit facility is guaranteed by DHT and contains a covenant requiring that, at all times, the charter-free market value of the vessels that secures the credit facility must be no less than 135% of borrowings.
DHT Maritime, a wholly owned subsidiary of DHT Holdings, amended its credit agreement with the Royal Bank of Scotland in 2013. The installments, scheduled to commence in 2016, have changed from a fixed $9.1 million per quarter to a variable amount equal to free cash flow in the prior quarter—capped at $7.5 million per quarter. The next scheduled installment would, at the earliest, take place in the second quarter of 2016.