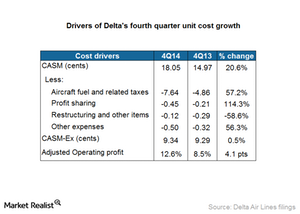 Delta's profit sharing, fuel hedging expenses boost 4Q unit cost
By Teresa Cederholm

Updated
Growth in 4Q14 unit cost
As planned for the sixth consecutive quarter, Delta Air Lines kept the growth in unit cost below 2%, excluding fuel, profit sharing, and special items (or CASM-Ex). While the total cost per available seat mile (or CASM) increased by ~21% during the quarter to 18.05 cents, compared to 14.97 cents in 3Q13, CASM-Ex increased only by 0.5% to 9.34 cents in 4Q14.
Article continues below advertisement
Fuel costs
Fuel cost and profit-sharing expenses were the major contributors to the increase in Delta Air Lines's total unit cost. Delta's fuel price per gallon is the lowest among its peers, including American Airlines (AAL), United Continental Holdings (UAL), Alaska Air Group (ALK), JetBlue Airways (JBLU), and Southwest Airlines (LUV). The fuel cost increase in 4Q14 was primarily due to mark-to-market adjustments, which are nonrecurring in nature. We'll explore Delta's 4Q14 fuel expenses in more detail in the next article.
Profit-sharing expenses
Delta's highest cost growth came from its profit-sharing expenses, which more than doubled during the quarter. Profit sharing amounted to $262 million in 4Q14 and $1.1 billion for 2014. According to the company, this was the highest profit-sharing expense in its history, representing 16% of the employees' 2014 pay. Other than profit-sharing expenses, Delta's unit cost growth was also due to higher special charges. We'll learn more about these special charges in Part 6.
Fleet upgauging
Delta's CASM-ex cost saving was primarily due to fleet upgauging and retirement of 50-seat aircraft, offering long-term benefits. In 2014, Delta took delivery of 84 aircraft and retired 89 aircraft. Around 60 of the 89 aircraft retired were 50-seaters. Operating leverage improved through upgauging, as it generated 2% higher domestic capacity on 3.9% fewer departures. Plus, Delta realized maintenance savings resulting from retiring its 50-seat aircraft, as parts from retired equipment were recycled to be used in other aircraft.
These long-term cost-saving initiatives should result in improved margins and benefit shareholders. ETFs that hold some of these airline stocks include the iShares Transportation Average ETF (IYT) and the SPDR S&P Transportation ETF (XTN).