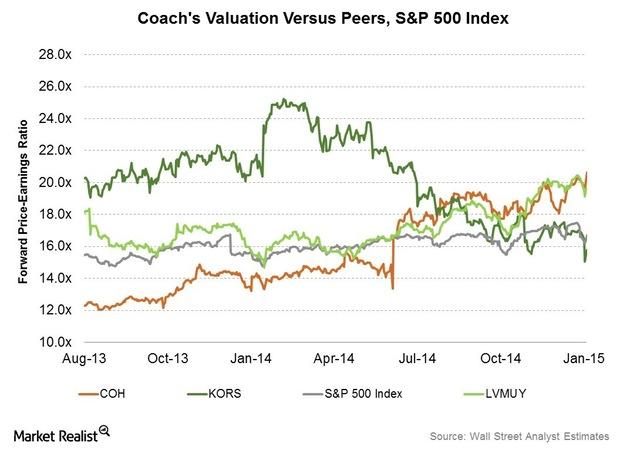 Does Coach Offer Better Value Than Its Handbags?
By Phalguni Soni

Jan. 22 2015, Updated 12:51 p.m. ET
Acquiring Coach
Chances of Coach, Inc. (COH) being acquired in the near term look slim. The company has invested considerable efforts to turn itself around, including revamping its stores, especially flagship stores in key cities.
Coach expects to see growth on track by fiscal 2016 or 2017. The recent acquisition of premium footwear brand Stuart Weitzman for $574 million appears to be part of its turnaround efforts.
Article continues below advertisement
Acquisitions
In the future, Coach may acquire more companies, particularly as it looks to change its image from primarily a handbag maker to a lifestyle brand. The company has ample cash on hand and little debt on its books. Its free cash flow yield is 7.1% and its dividend yield is 3.5%—the highest of its peer group.
Valuations are pricey
For a potential acquirer, a wait-and-watch approach may yield better results. Coach's valuation rose after the Stuart Weitzman acquisition announcement. The company's 12-month forward PE (price to earnings) multiple was 19.7x on January 5. It rose to 20.6x by January 8. The company's forward PE ratio is also higher than those of peers Michael Kors (KORS) and Ralph Lauren (RL). The S&P 500 Index (SPY), in comparison, traded at a forward PE of 16.7x on January 8.
Also, in terms of the price-to-sales ratio, valuations don't appear particularly cheap, especially when you consider its string of recent sub-par results. Markets appear to be placing value on the company's organic and inorganic plans for turnaround and future growth.
Waiting game
Having said that, on an organic basis, the company's turnaround efforts don't look entirely successful to date. Dollar-value declines in the women's accessories category in the last quarter of 2014 suggest that Coach and its peers may struggle in the quarter. KORS and KATE already scaled down future growth expectations in mid-2014, causing their stock prices and valuations to drop sharply. An earnings miss could see valuations for Coach (COH) drop, making a purchase far cheaper.
On the other hand, Coach's new creative director, Stuart Vevers, is ex-LVMH (MC.PA). This hire may have been made with a future combination with LVMH in mind.
Either way, there appears to be a high probability of further consolidation or acquisition activity in the future for Coach (COH).