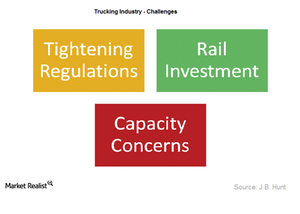 Other challenges that the transport and logistics industry faces
By Ally Schmidt

Updated
Challenges
Article continues below advertisement
Tightening regulations
Since 2013, new regulations came into effect for Hours of Service. The regulations put downward pressure on the carrier capacity of ~3–5%. There was also the mandate on the use of Electronic Logging Devices, or ELDs, from 2015 to 2016. This would put more pressure on the trucking market when freight volumes grow in future. These regulations also lead to a fall in driver and asset productivity.
Newer proposed regulatory changes could constrain capacity more. For example, the EPA (Environmental Protection Agency) and the NHTSA (National Highway Traffic Safety Administration) released new standards. The standards aim to reduce greenhouse gas emissions and fuel consumption for Class 8 trucks by ~29%. This would lead to expensive new trucks and higher maintenance costs for the company.
Rail investment
During the recession years, the railroads—like Union Pacific Corporation (UNP)—invested heavily in improving their networks. UNP is part of the MSCI USA Momentum Fund (MTUM).
As the economy recovers, the railroads continue to see greater movement as all of the sectors increase capacities. However, the industry faces issues with the availability of locomotives and crew members. It takes time to hire and train crew members.
Article continues below advertisement
Also, with the new Tier 4 air quality regulations coming into effect on January 1, 2015, locomotive manufacturer Electro-Motive Diesel, Inc. (CAT) doesn't anticipate having production units ready until 2017. This means there's only one US locomotive manufacturer, General Electric (GE), to fulfill the required demand.
Capacity concerns
The above reasons make capacity expansion unlikely in the near future. This creates a supply shortage when the demand rises. This is expected to get worse when the next rounds of regulatory changes are made in 2016. Total shipping costs are expected to increase. Rail costs and driver shortages will put more pressure on the industry.