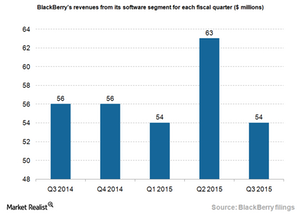 BlackBerry plans to monetize its new BES12 release
By Puneet Sikka

Jan. 19 2015, Updated 10:01 a.m. ET
BlackBerry plans to make money from its BES12 solution
In the previous part of this series, we discussed how BlackBerry (BBRY) has gotten huge growth potential in the mobile device management (or MDM) market. We also observed in Part 3 of this series how BlackBerry's EZ Pass program has helped the company upgrade subscribers to its BES12 software release. About 30% of these upgrades came from competing platforms such as Good Technologies, VMware's (VMW) AirWatch, and MobileIron (MOBL).
All this is fine, but the point you should note here is that, with the help of the EZ Pass program, BlackBerry gained customers through a free upgrade to BES12. The main issue here is how far BlackBerry will be successful in monetizing its software solution.
Article continues below advertisement
The company is looking to make money from BES12 through technology support and encouraging enterprises to buy premium versions of the software with enhanced security features. BlackBerry has recently ended the EZ Pass program and the company hopes that in the next six to nine months, the monetization from its BES12 solution will start to kick in.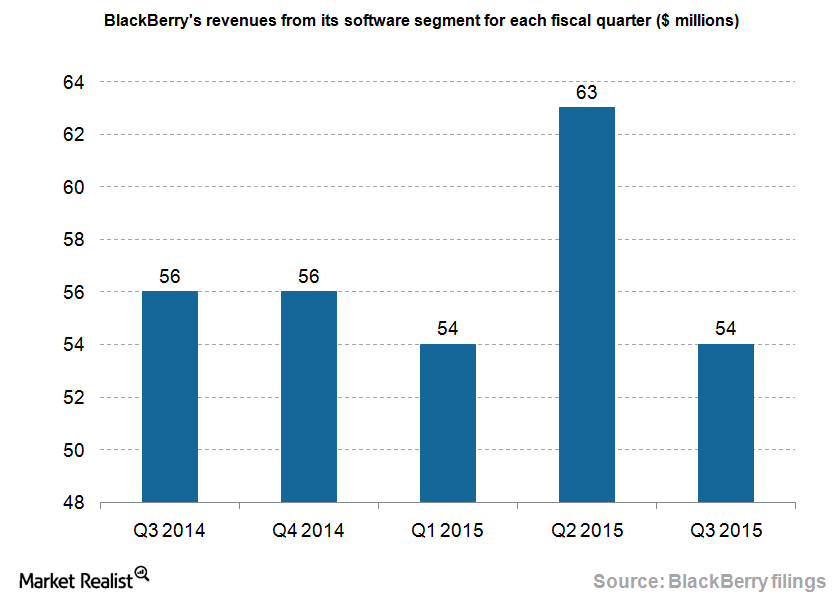 BlackBerry expects to double its software segment revenue next fiscal year
BlackBerry currently expects to make $250 million in revenue from its software segment for fiscal 2015 and it expects this number to double to $500 million by fiscal year end 2016. This is a brave prediction from BlackBerry, considering that revenue from its software segment hasn't shown any signs of growth until now.
As the chart above shows, BlackBerry's revenue from its software segment has almost remained constant between $50 million and $60 million in the last few quarters. The company is betting on the majority of its EZ Pass subscribers starting to pay for premium services, but that's a risk.
BlackBerry charges $0.67 per month per user for its older versions of BES software, which it calls "Silver licenses." BlackBerry plans to charge $1.92 per month per user for enterprises that want to use BES12 capabilities and manage their Apple-based (AAPL) or Google (GOOG)(GOOGL) Android–based smartphones and tablets. It also plans to charge $6 per month per user for highly encrypted and value-added services. It calls these licenses "Gold licenses."