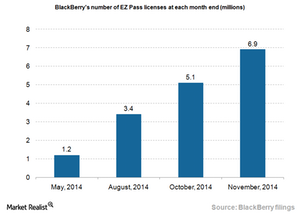 BlackBerry's enthusiastic about its latest software release, BES12
By Puneet Sikka

Updated
BlackBerry's latest mobile device management solution, BES12, offers some attractive features
Under the leadership of John Chen, BlackBerry (BBRY) has transformed from a hardware company to an enterprise software company. Chen knows that BlackBerry can no longer survive on its past glory, though it had been the leader in the smartphone market. The stiff competition from Apple's (AAPL) iPhone and Google's (GOOG)(GOOGL) Android-based smartphones means BlackBerry has been reduced to a niche smartphone player.
Article continues below advertisement
However, the company has started to make rapid strides in the enterprise software space. It recently released the latest version of its mobile device management software, BES12, for enterprises. BES, or BlackBerry Enterprise Server, is the server that synchronizes emails, contacts, and calendar information with a company's networks in a secure way.
BES12 offers some attractive features, such as the ability to manage several mobile devices securely, including Apple, Android, and Microsoft (MSFT) devices in addition to BlackBerry's own devices. BES12 will not only support smartphones and tablets but also the Internet of Things—which includes everyday objects like fridges, TVs, and cars that are connected to the Internet.
BlackBerry's EZ Pass program has been a success
During the last quarter, BlackBerry launched the EZ Pass program, under which users of older versions of BES can upgrade to BES12 for free. The EZ Pass program has gotten a great response from BlackBerry's customers. The number of licenses for the BES12 software has consistently increased from 1.2 million at the end of May 2014 to 6.9 million at the end of November 2014, as the chart above shows.