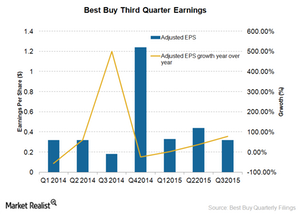 Best Buy's third-quarter earnings indicate a recovery
By Sirisha Bhogaraju

Jan. 21 2015, Updated 10:33 a.m. ET
Best Buy's encouraging results
Best Buy's cost-cutting initiatives, as well as its focus on improving its online channel, helped the company increase its 3Q 2015 adjusted EPS (earnings per share) by 77.8% compared to 3Q 2014.
Improved 3Q 2015 earnings
Best Buy's adjusted EPS increased to $0.32 in 3Q 2015 ended November 1, 2014, compared to $0.18 in 3Q 2014. Revenues increased by 0.6% to $9.38 billion. This is the first time that the company reported an increase in revenues since the first quarter of last fiscal year.
The company's same-store sales increased by 2.2%, registering the first growth seen since 3Q 2014. The quarter saw strong results from televisions, computing, and tablet categories, as well as games and appliances.
Products sold by Best Buy fall under the consumer discretionary category (XLY).
Article continues below advertisement
Impressive online sales growth
Best Buy's domestic online same-store sales surged by 21.6%, driven by its ship-from-store strategy, enhanced website, and marketing efforts. The ship-from-store strategy facilitated faster delivery of products from the company's 1,400 stores. The initial phase of the strategy involved just 400 stores.
How peers fared
RadioShack (RSH) continued to disappoint investors in the third quarter, as the company reported a steeper adjusted loss of $1.23 per share compared to the previous year's loss of $1.09 per share. Sales declined by 16.1% to $650.2 million, and same stores were down 13.4%. There's a strong likelihood the company will file for bankruptcy.
Best Buy's online business rival, Amazon.com (AMZN), disappointed investors with an adjusted loss per share of $0.95 in the third quarter of 2014, compared to a loss of $0.09 in 2Q 2014. Amazon's bottom line was impacted by higher operating expenses and a write-off related to Fire Phone. The company's revenues increased by 20.4% to $20.6 billion.
GameStop (GME) reported a 1.7% increase in adjusted EPS and a 0.7% decline in its third-quarter revenues.