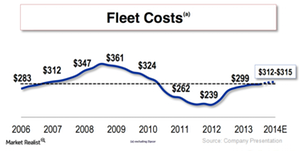 Avis Budget Group: Key business trends
By Diana Key

Jan. 8 2015, Updated 10:04 a.m. ET
Viking Global initiated Avis Budget Group position
Hedge fund Viking Global acquired a 5% stake in Avis Budget Group (CAR). In it's 13G filing, Viking said the shares weren't acquired for the purpose of changing or influencing ownership control of the comapny. In this part of series, we'll review some significant trends that Avis Budget Group, or Avis, is experiencing in its business.
Article continues below advertisement
Higher-than-expected fleet cost in North America
A change in fleet costs is a result of a change in the cost of new vehicles, manufacturer recalls, and a disruption in the supply of new vehicles. It's also a result of a change in the price at which the company disposes of used vehicles, either in the used vehicle market or under repurchase, or guaranteed depreciation, programs.
The company continued to face rising fleet costs in North America. According to the company, "Vehicle residual values weakened in August and September more than typical seasonality would explain. This trend obviously impacted the prices it realized on the risk cars it needed to sell in those months."
Avis sold ~30% of its risk vehicles in the third quarter. It completed 95% of the risk-car disposals in its planned 2014 disposal program.
Avis is diversifying its disposal channels to reduce fleet costs. It's also expanding in direct-to-dealer and direct-to-consumer car sales. It expects 2014 fleet costs to increase 4% to 5%.
Avis Budget Group's competitor United Rentals (URI) faced headwinds due to "fleet inflation," selling its older fleet and replacing it with a new fleet at higher prices. Meanwhile, rival AMERCO (UHAL) is expanding its rental fleet to serve more customers.
Strong pricing trends
Increased pricing has been a principal objective of the company's for the past seven quarters. The company executed the first phase of its integrated demand-fleet-pricing system in more than 100 markets.
It sees "millions of opportunities to optimize competitive pricing and its pricing tool accelerates and streamlines the decision-making process well beyond the capability of manual action. As a result, its pricing has become more nimble and dynamic than it is now better able to optimize its pricing through the entire product portfolio." Pricing is improving, and the company still has significant opportunities to raise prices in the travel industry.
Increasing pricing trends is also beneficial to other competitors including Hertz Global Holdings (HTZ) and Ryder System (R).
In the next part of this series, we'll discuss how the acquisition of Zipcar is proving strategic and economic for Avis Budget Group.