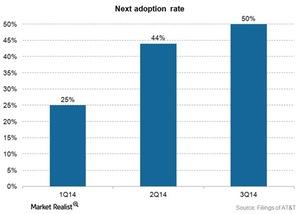 Why AT&T's Next adoption rate may increase in 4Q14
By Ray Sheffer

Updated
Next as a churn management strategy
In the last part of this series, we learned about AT&T's (T) expected higher churn rate in 4Q14. We also mentioned that the company had the best churn rate among the national carriers in 3Q14.
One of the key factors that helped AT&T manage low churn levels is its installment plan—Next. According to John Stephens—AT&T's CFO—the Next plan helped the company effectively manage churn during 2014. This is especially important in a period when the price competition among national carriers put significant pressure on the churn rates.
Stephens spoke about this at the UBS Global Media and Communications Conference held on December 9, 2014.
Article continues below advertisement
Other positive aspects
Like any other installment plan, Next offers customers the benefit of owning a smartphone—like Apple's (AAPL) iPhone—without a down payment. However, they have to pay the taxes associated with the device. The customers pay the smartphone's price in equal monthly installments over 20–30 months. Also, they get multiple choices for upgrading their smartphones.
For AT&T, the benefits of the Next program are even higher. As an installment plan, it offers the usual advantages over subsidy plans—the other alternative for a post-paid customer to own a device. Installment plans are more profitable for telecommunication companies. They have lower subsidy costs. Also, customer life is higher in installment plans than in subsidy plans. Please read Why the Next model's more valuable to AT&T than the subsidy model to learn more.
Other national carriers are also offering installment plans to customers. Verizon (VZ) offers Edge. T-Mobile (TMUS) offers Jump. You can invest in AT&T, Verizon, and T-Mobile through the Vanguard Telecommunication Services ETF (VOX). It had a 49% holding in these companies at the end of 3Q14.
Growth trend in Next
During the first nine months of 2014, the number of customers choosing AT&T's Next program increased significantly. As you can see from the above chart, Next adoption increased during the second quarter. Management expects the adoption of the Next program to increase more in 4Q14.