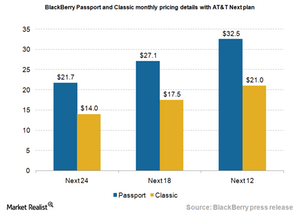 AT&T will sell a customized BlackBerry Passport smartphone
By Puneet Sikka

Nov. 20 2020, Updated 5:02 p.m. ET
Customization requirements delayed the launch of the Passport on AT&T
In the last couple of articles in this series, we've discussed why it's important for BlackBerry (BBRY) to maintain good relations with carriers and distributors. One of the major carriers in the US, AT&T (T), recently agreed to sell and promote the Passport exclusively in the US. This is good news for BlackBerry, which has long been looking to find a partner to sell the Passport with.
Although AT&T had agreed to sell the Passport in September last year, it asked for customization from BlackBerry through rounded edges for the Passport rather than the square corners that the original Passport offered. This probably explains the delay in launching the Passport on AT&T's network. AT&T will sell the Passport exclusively for $200 with a two-year contract. The device otherwise sells for $650 without a contract.
Article continues below advertisement
AT&T will also offer the Passport under its Next installment plan. Read Why we're seeing a telecom shift from subsidy to installment plans and Why the Next model's more valuable to AT&T than the subsidy model to learn more about Next. As the chart below shows, you can buy the Passport under different Next plans at different price points.
Verizon's support for selling the Classic is big for BlackBerry
BlackBerry is even more enthusiastic about the support that its recently launched smartphone, the Classic, has received. During the earnings call, BlackBerry's CEO, John Chen, mentioned that Verizon (VZ) will also start selling the Classic in addition to AT&T. It has already garnered support from top European carriers such as Vodafone (VOD), Orange (ORAN), and Telefonica (TEF) and top Canadian carriers such as Telus Corp. (TU), Rogers Communications (RCI), and BCE Inc. (BCE) for selling the Classic. But support from Verizon is a big win for BlackBerry.
The Classic will sell at a much cheaper price than the Passport, and you can buy it for only $50 with a two-year contract and for $420 without contract. You can also buy the Classic with AT&T's Next plan, whose pricing you'll find in the above chart.