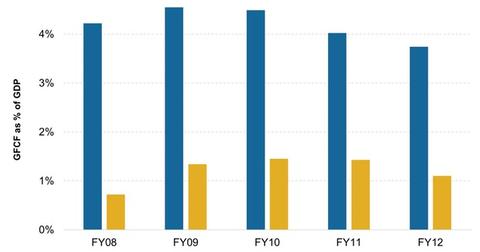 Analyzing India's fiscal deficit in 2015 and beyond
By David Ashworth

Updated
India's fiscal deficit going forward
There's a possibility that the government could be soft on its fiscal deficit target in 2015. Although it's committed to containing the deficit in this financial year, a lack of corporate spending could push it to increase expenditure this year. This will be revealed in the Union Budget for 2015–2016. It will be released at the end of February.
Article continues below advertisement
The reason
In its Mid-Year Economic Analysis 2014–2015, India's Ministry of Finance noted that one of the reasons why economic activity didn't increase was private investment stalled. Private investment stalled due to "the legacy of distressed corporate balance sheets." Low corporate profitability hindered investment.
The report stated that over 33% of Indian corporates have an interest coverage ratio of less than one. The interest coverage ratio shows a company's  ability to pay interest. The higher the ratio, the better.
According to the report, India's corporate sector has a median debt-to-equity ratio. The report claims that this is "amongst the highest in the world." A ripple effect has also been seen in the banking sector. Due to risk aversion, Indian banks—like ICICI Bank (IBN) and HDFC Bank (HDB)—aren't willing to lend to the real sector. The sector produces goods and services.
As a result, the private sector's investment activity has been slow. Also, corporates paid less taxes. This led to more expenditure and less revenues for the government. It's important for investors to watch out for developments on fiscal deficit.
Although the developments won't affect your India-related ETFs—the WisdomTree India Earnings Fund (EPI), the PowerShares India Portfolio (PIN), and the iShares MSCI India ETF (INDA)—directly, they will certainly affect India's economic future. In turn, this will impact stocks and ETFs.