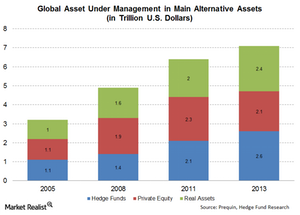 Alternative assets likely to see contined growth in coming years
By Saul Perez

Nov. 21 2019, Updated 12:54 p.m. ET
Alternative asset management sector will remain strong
In this series, we learned about the main features of alternative assets. We also looked at the market size and the main players in alternative asset management. We finished up with a consideration of the current and future trends in alternative asset management. So, where does this leave us?
Article continues below advertisement
Alternative assets will continue to grow at a fast clip
Alternative assets under management will continue to grow at a fast clip, likely faster than traditional assets under management. Between 2005 and 2013, the CAGR (compound annual growth rate) of alternative assets stood at 10.7%.
Assets under management in hedge funds and real estate grew the fastest at a CAGR of 11.4% and 11.3%, respectively. Private equity assets under management was a shade slower at 9.1% CAGR. Growth during this period was largely driven by sophisticated institutional investors.
Penetration of alternative assets is low. With increasing information, retail investors have started to enter the fray. And these are the investors that will drive the next phase of growth in alternative asset investment, either directly, or via ETFs such as the IQ Hedge Multi-Strategy Tracker (QAI) and the SPDR SSgA Multi-Asset Real Return ETF (RLY).
Alternative asset managers need to focus on brand building
Until now, the clientele for alternative assets was limited. To capture future growth, companies will need to build strong brands and reach more investors. Players with strong brands already, such as BlackRock (BLK), Invesco (IVZ), and Legg Mason (LM) will benefit. Smaller niche players will need to work harder.
Overall, the future of the alternative asset management sub-sector looks bright. In the short term, alternates will continue to grow faster than traditional assets. In the long term, sustainable growth will depend on returns, cost structures, and reaching emerging markets effectively.