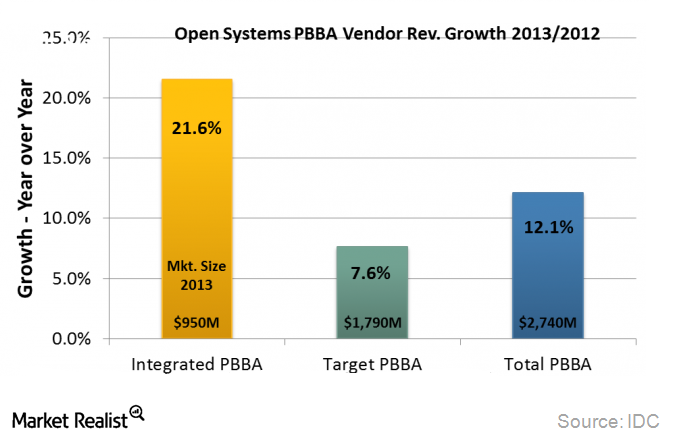 Will Symantec benefit from growth in integrated backup appliance space?
By Anne Shields

Dec. 31 2014, Updated 2:07 p.m. ET
Integrated backup appliances outpace target appliances in backup appliances space
As mentioned in the earlier part of this series, the backup appliances market is composed of target backup and integrated backup appliances. Target backup appliances form a larger part of the purpose-built backup appliance (or PBBA) market at $1,790 million. The integrated backup appliance market grew three times the rate of the target PBBA in 2013, as the below presentation shows. The integrated backup appliance market stood at $950 million.
This growth suggests a change in the future. Symantec (SYMC) with its NetBackup appliances is poised to benefit from this growth. The International Data Corporation (or IDC) stated that Symantec continues to be the fastest-growing player in this space.
Article continues below advertisement
Integrated backup appliances reduce complexity
Symantec's integrated backup appliances encompass storage, deduplication, backup, and recovery in a single platform. They are useful for both large-scale enterprises and smaller commercial environments due to their simplicity and performance. Customers prefer integrated backup appliance over build-your-own backup servers.
Integrated PBBA systems expected to reshape the backup appliance market
The IDC recently stated, "We believe that integrated PBBA systems will be the engine of growth [vs. target appliances] as customers look to deploy turnkey, easy-to-use, and easy-to-manage solutions. In addition, we expect PBBA solutions, particularly integrated PBBAs, to provide channel partners with a vehicle to add more value-added services such as hosted services and cloud options."
According to the IDC, in 2013, EMC Corporation (EMC) was the market leader of integrated backup appliances space. To focus more on the converged infrastructure space, EMC recently bought out Cisco's stake in Vanguard FTSE Canada Index ETF (VCE), which was formed as a joint collaboration of VMware (VMW), Cisco Systems (CSCO), and EMC. In 2013, Symantec commanded 38% of the market share compared to 0% in 2010 when it had nil presence in this space. Barracuda Networks (CUDA) is another leading player in this space.