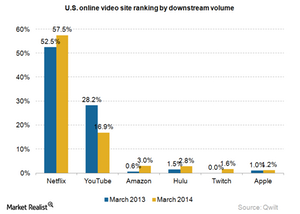 VZ is waiting for compatible devices to implement LTE multicast
By Puneet Sikka

Nov. 20 2020, Updated 9:43 p.m. ET
Verizon to roll out LTE multicast technology by next year
Users access two types of technology to consume video on their LTE wireless networks. One is LTE unicast and the other is LTE multicast. Unicast technology works by sending data between a sender and a receiver on a LTE network when the receiver demands a video. However, this technology isn't efficient when it comes to broadcasting events—for example, sporting events. Many users want to view the videos on their mobile phones at the same time. LTE multicast technology caters to this specific need.
During the earnings call for 3Q14, Verizon's (VZ) management mentioned that the network for LTE multicast has been ready since August. Currently, chipsets for compatible devices are being implemented. Verizon expects the complete ramp up of compatible devices to be in the market by next year.
Qualcomm Inc. (QCOM) is the leader in the LTE chipset market. It has been developing compatible chipsets for LTE multicast technology to cater to telecom providers' needs. Market Realist covered this aspect in Qualcomm innovates in the LTE chipset space to maintain its lead.
Article continues below advertisement
Verizon in discussion with content providers 
Verizon is in discussion with many content providers to provide video content for use with LTE multicast technology. Currently, Verizon isn't among the top players for providing online video content to its users. This market is clearly led by Netflix Inc. (NFLX). NFLX is responsible for more than 50% of the online video downstream volume in the US. This insight is reported by Qwilt.
According to Qwilt, NFLX, Google's (GOOG)(GOOGL) YouTube, and Amazon.com Inc. (AMZN) are the top three players in this segment. Please refer to the above charter to understand more.