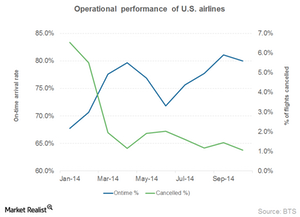 US airlines' October on-time arrival rate dipped from September
By Teresa Cederholm

Updated
Flight schedule performance
Airline consumer complaints filed with the US Department of Transportation (or DOT) increased to 1.23 per 100,000 enplanements in October 2014, compared to 0.85 in the previous year. Flight cancellations and delays, as well as mishandled baggage, remained the top two complaint categories. Apart from these, passengers also complained about customer service, reservations and boarding, refunds, and fares.
Article continues below advertisement
On-time performance
In October, around 80% of the scheduled flights arrived on time. For the last 12 months, the on-time rate of US airlines was 75.9%. Hawaiian Airlines (HA) maintained the top position in the industry with an on-time rate of 92.6% for the 12 months ending October 2014. Alaska (ALK) was the second best with 86.9%, followed by Virgin America's 83.2% and Delta's (DAL) 83.1%.
The on-time performance of all other airlines including United (UAL), American (AAL), Southwest (LUV), and JetBlue (JBLU) fell below 80%. A flight is considered delayed if it arrived at the gate late by 15 minutes or more after the scheduled arrival time. Some causes of the delays were late-arriving aircraft, air traffic system delays, maintenance or crew problems, and extreme weather conditions.
Percentage of flight cancellations
Bad weather conditions caused many flight cancellations in the first quarter of 2014. In October, ~1.06% of flight operations at all reportable airports were cancelled. Envoy Air had the highest cancellation rate of 4.72%. For most of the other airlines except SkyWest and ExpressJet, the cancellation rate was less than 1%.
Mishandled baggage
In October 2014, the number of reports of mishandled baggage per 1,000 passengers increased to 2.87 compared to 2.53 a year ago, but the number was lower than September's rate of 2.98.
Airlines are part of many ETFs that hold a diversified portfolio of stocks. Some of the ETFs that have a higher percentage of airline stocks are the SPDR S&P Transportation ETF (XTN), which holds ~44% in airline stocks, and the iShares Transportation Average ETF, which holds ~37% in airline stocks.