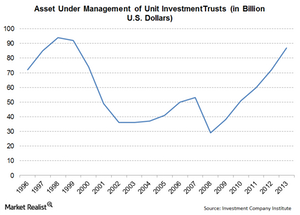 Unit investment trusts seek investors
By Saul Perez

Updated
Assets of unit investment trusts are stagnant
Assets under management of unit investment trusts, or UITs, have more or less stagnated over the years. At the end of 2013, these assets stood at $87 billion. At the beginning of 1997, the assets under management of unit investment trusts also stood at $87 billion, as you can see in the chart below. Basically, there's been hardly any meaningful growth for UITs.
UITs have shown some pickup in assets under management from the low of $29 billion in 2008. Yet these products account for a minuscule 0.05% of the total assets under the traditional investment management space.
Article continues below advertisement
Why UTIs aren't popular with investors
Until the year 2000, ETFs were smaller in assets managed than UITs. But while ETFs have picked up in popularity, UITs have fallen from most investors' consideration.
UITs may provide some benefits, but the products have a few major flaws too. As a result, UITs have never gained wide investor acceptance. The biggest flaw is its lack of flexibility, both in terms of changing portfolio mix if the situation demands it, and being able to sell quickly.
Investing in UITs
If you wish to, you can easily replicate the portfolio of a UIT all by yourself. Some UITs provided by players such as Morgan Stanley (MS), Goldman Sachs Group (GS), Invesco (IVZ), and Lazard (LAZ) periodically come out with new offers. If you want exposure to companies offering UITs, you can invest in an ETF such as the Financial Select Sector SPDR Fund (XLF).