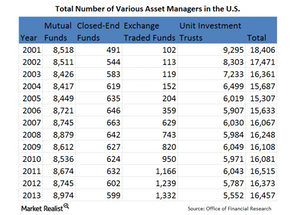 Traditional asset management strong despite challenges
By Saul Perez

Updated
Asset management sector shows impressive growth
In this series, we learned that traditional asset management has grown at a fast clip in the last decade. From assets under management of $3.75 trillion in 1996, the industry has grown to a humongous $17.01 trillion of assets under management. That's a growth rate of nearly 4.5 times.
A number of factors have contributed to this impressive growth. For one, newer innovations such as exchange-traded funds, or ETFs, have helped the industry along. Also, ongoing product differentiation and the introduction of new products such as thematic funds have clearly appealed to investors. At the end of the day, the industry has grown so tremendously because asset managers have listened to customers.
Pure play investment managers have grown more aggressively. BlackRock (BLK) is now one of the largest players in the sector. BlackRock benefited from the ETF boom, creating one of the largest in the world, the iShares Core S&P 500 ETF (IVV). State Street (STT) has also driven the ETF boom. Active managers such as T. Rowe Price (TROW) and Franklin Templeton Investments (BEN) have also demonstrated strong growth.
Asset management sector continues to see a churn in players
It's clearly evident in the chart above that the segments with fastest growth, such as ETFs, are seeing the most new players entering the space. Lower-growth segments such as unit investment trusts are seeing players leave. Overall, the number of players in the traditional asset management segment has declined primarily because of the unit investment trust's waning popularity.
Concerns have been raised about mis-selling and unsuitable products being pushed on customers. By and large, however, asset management firms have done a good job at helping clients reach their financial goals.