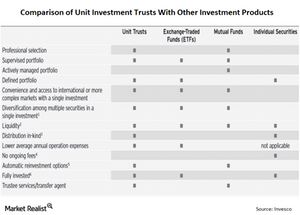 The unit investment trust: Asset with an expiry date
By Saul Perez

Nov. 27 2019, Updated 7:44 p.m. ET
Unit investment trusts: Different from other traditional investment products
Unit investment trusts, or UITs as these products are popularly known, are U.S. Securities and Exchange Commission–registered investment companies that invest in portfolios of securities—equities or bonds—according to specific investment objectives or strategies.
Article continues below advertisement
The unique features of unit investment trusts
Unit investment trusts, or UITs, are very uncommon investment products with some distinguishing features. UITs are registered with the U.S. Securities and Exchange Commission separately. The products make a one-time public offering of a specific, fixed number of units. UITs can be bought back by the unit investment trust sponsor at the request of the investor.
UITs follow a buy-and-hold strategy. Portfolios generally remain invested in the same set of securities throughout the tenure of the UIT, except in limited circumstances. Similarly, UITs investing in bonds have a predefined rate of return for the duration with regular interest payments. This makes the products suitable for long-term investors, retirees, and pensioners.
UITs are also tax efficient. Investors are only taxed for the period of time that the units are held in a given financial year. This is unlike mutual funds that tax investors for the whole year, regardless of the point of entry.