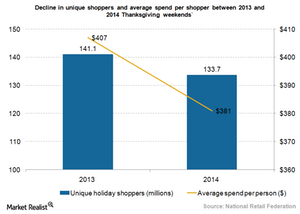 Why is Thanksgiving weekend losing its charm among shoppers?
By Puneet Sikka

Dec. 31 2014, Updated 11:03 a.m. ET
Shoppers' traffic declined this past Thanksgiving weekend
Thanksgiving weekend, which includes Black Friday and Cyber Monday, is traditionally the busiest weekend for retailers. But it's slowly losing its charm among shoppers.
According to a report from National Retail Federation, the number of unique holiday shoppers in the US on Thanksgiving weekend declined from 141.1 million in 2013 to 133.7 million in 2014. More importantly, the average spending per shopper declined from $407 in 2013 to $381 in 2014 during this period, as the chart below shows.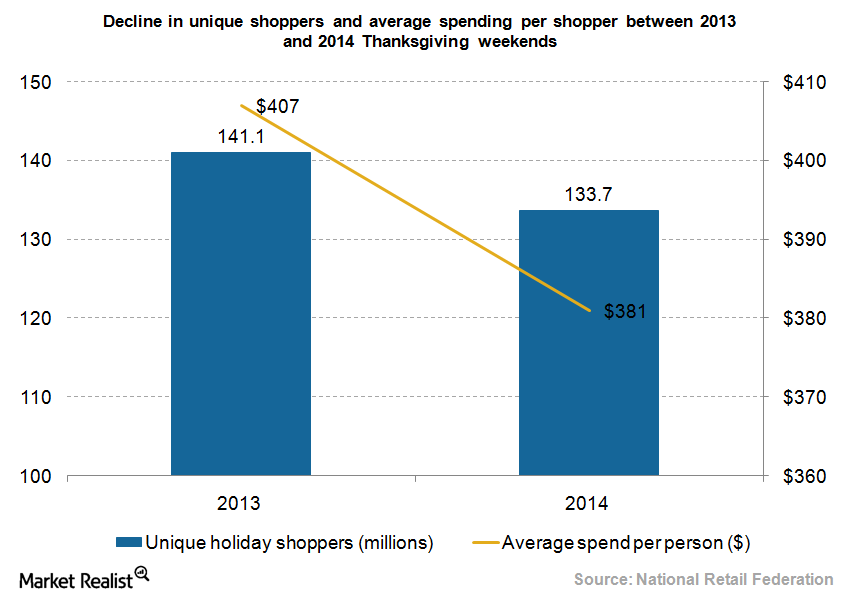 Article continues below advertisement
Early promotions and the fast-growing e-commerce market affected retailers
There are a number of possible reasons why the charm of Thanksgiving weekend has gone down over the past year. According to the same report from the National Retail Federation, "A strengthening economy that changes consumers' reliance on deep discounts, a highly competitive environment, early promotions and the ability to shop 24/7 online all contributed to the shift witnessed this weekend."
It's true that retailers had started promotions much earlier than actual Thanksgiving day. Target (TGT) and Wal-Mart (WMT) started their promotions in early November. It's also true that people have started to prefer purchasing items online rather than going to a store, as this provides them with the convenience of staying home.
Seeing the potential of the e-commerce market, traditional brick-and-mortar stores have also beefed up their offerings online. Wal-Mart and Target announced that Thanksgiving was their second-biggest and biggest day, respectively, in terms of online sales. Best Buy (BBY) received a huge increase in mobile traffic. Its website crashed during Thanksgiving weekend.
In Part 1 of this series, we discussed how Wal-Mart and Target's prices online were 5% to 10% lower than Amazon's (AMZN). This could also have been another reason why online sales from traditional retailers' websites increased rapidly.
Groupon (GRPN), an online deal company, also announced that it experienced robust sales during Thanksgiving weekend.