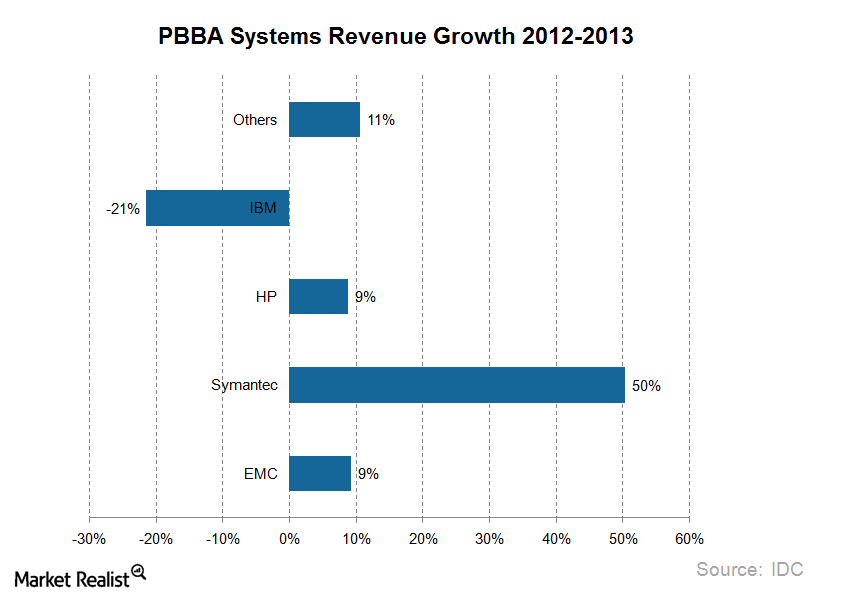 Symantec launches NetBackup 5330 appliance
By Anne Shields

Dec. 31 2014, Updated 8:07 a.m. ET
The launch of Netbackup 5330 appliance
In October 2014, Symantec Corporation (SYMC) announced its Netbackup 5330 appliance. NetBackup 5330 appliance is a media server with up to 229 terabytes (or TB) capacity and twice the backup performance of previous generations of the appliance using 10-gigabit Ethernet. It's designed to build upon Symantec's recently released expansion arrays and doubled deduplication pool capacity. Symantec expects it to be available in the market in March 2015.
Article continues below advertisement
SMAC increases need for data backup, storage, and recovery
With the advent and increased adoption of SMAC (social, mobile, analytics, and cloud), data volume is growing exponentially. Tackling data volume as well as managing backup and recovery have become more and more complex. To meet this software-defined data protection, Symantec launched its Netbackup appliance.
The company's recent launch of Netbackup 5330 provides backup, data recovery, and data replication that are two times, three times, and 4.8 times faster, respectively, than its predecessors'. Its other key features include mix-and-match deduplication, advanced disk deduplication for client or target, replication, and integrated security software using Symantec Critical System Protection. It's designed to meet the requirements for complex data centers that demand a performance-optimized media server with large-capacity deduplication.
Symantec is fastest growing player in the PBBA space
According to International Data Corporation (or IDC), although EMC Corporation (EMC) leads the total purpose built backup appliance (or PBBA) market, it's Symantec that has shown year-over-year revenue growth of 50%, as the above graph shows. In comparison, other vendors such as Hewlett-Packard (HPQ), IBM (IBM), and Barracuda Networks (CUDA) showed revenue growth in the range of -21% to 9%. In the last three years, Symantec has been the fastest growing backup appliance vendor.