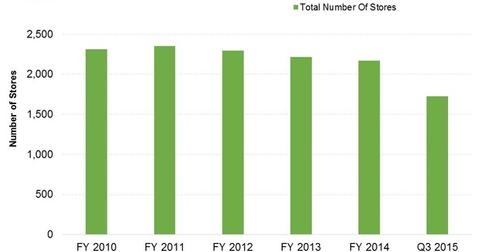 Store Strategies For A Leaner And Meaner Retail Environment
By Phalguni Soni

Updated
SPLS's retail strategies
As discussed in the last part of this series, retailers in the office supplies industry have been threatened for a number of years. Staples (SPLS) and Office Depot (ODP) are both in the process of executing turnaround strategies. The strategies include rationalizing stores' size and retail (XRT) footprint to advance their business models in a fast-changing market.
While changing the size of stores and closing stores are necessary right now, retailers aren't ready to abandon the brick-and-mortar model. "We're not getting out of the retail business," said Ron Sargent, CEO of Staples, speaking at the 2013 earnings conference call. "Our stores are an important differentiator versus the competition," he said.
Article continues below advertisement
Reducing store count
SPLS reduced its North American store count by over 10% in the past three years. There will be more reductions in store count. In North America, over 225 stores will to be closed in 2014 and 2015 combined. In 2014, ~170 stores will close. SPLS closed ~15% of its European stores in 2012. As a result, it's seeing a minor turnaround in retail comps. Retail comps were flat in 3Q14.
Sales transfers from closed stores
SPLS reported good momentum in sales transfers from their own store closures as well as ODP's closures. The company believes that sales transfers from SPLS's store closures and competitive store closures are coming in ahead of expectations. The company believes that this is due to a combination of good field work, excellent marketing, and good offers.
Article continues below advertisement
Store size
SPLS is also developing stores with a smaller format. It's planning to reduce the square footage in its stores from 24,000 to 12,000. SPLS estimates operating ~50 new stores with a smaller format by the end of 2014.
US Parcel Service
SPLS is also rolling out US Parcel Service (UPS) facilities in its stores. The company will have the services in over 500 stores by the end of 2014. This increased store traffic and sales. SPLS plans a chain-wide rollout next year.
Stores within stores
The company is also testing the concept of stores within stores for its electronics and furniture categories. In this format, retailers would allot an area to a particular supplier—for example, Samsung (SSNLF). The supplier would be responsible for the lease and other operating costs pertaining to the space. The concept is being applied extensively by Best Buy (BBY)—an electronics retailer—with suppliers like Microsoft (MSFT) and Samsung (SSNLF).