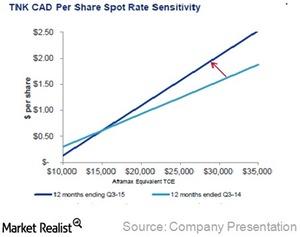 Spot tanker rates push up Teekay's cash available for distribution
By Katie Dale

Updated
Growth in cash available for distribution
Teekay Tankers generated $16.2 million, or $0.19 per share, in the third quarter of 2014 of cash available for distribution (or CAD). This compared to $8.7 million, or $0.10 per share, in the third quarter of 2013. Stronger Suezmax, Aframax, and LR2 spot tanker rates pushed the cash balance higher.
Based on Teekay Tankers' expectations, for every $5,000 per day increase in spot rates, the company's CAD is estimated to increase by $0.48 per share. A higher spot tanker market would translate into increased earnings and CAD.
CAD is the amount available to be distributed to shareholders after subtracting all the expenses and capital expenditures. This indicates a company's stable cash base, thus enabling it to capture attractive market opportunities.
On October 3, 2014, Teekay Tankers declared a dividend of $0.03 per share for the third quarter of 2014, paid to all shareholders of record on October 17, 2014. As a percentage of the current share price of Teekay Tankers, annual dividend represents almost 2.5.
Article continues below advertisement
Liquidity levels
As of September 30, 2014, Teekay Tankers' cash balance stood at $46.4 million. Undrawn revolving credit facility recorded $192.3 million. As of June 30, 2014, the cash balance stood at $21.7 million. This leads to a total liquidity of $238.7 million, compared to $250 million as of June 30, 2014.
Factors driving liquidity
Teekay Tankers' high cash balance and strong liquidity are supported largely by the industry fundamentals. "Crude spot tanker rates for the third quarter of 2014 reached their highest average for a third quarter since 2008," stated Kevin Mackay, chief executive officer of Teekay Tankers. On  a year-to-date basis, earnings for mid-sized crude tankers average more than $20,000 per day for the first time since 2010.
Teekay Tanker's management commented that a limited crude tanker fleet growth and a continued increase in long-haul crude tanker movements from the Atlantic to Pacific basins are likely to support the company's earnings. Meanwhile, lower global oil prices would lead to reduction in ship operating costs through reduced bunker fuel prices.
These factors will broadly support the Guggenheim Shipping exchange-traded fund (or ETF) (SEA) and a few companies such as Frontline Ltd. (FRO), Nordic American Tanker Ltd (NAT), DHT Holdings Inc (DHT), and Navios Maritime Acquisition Corporation (NNA).