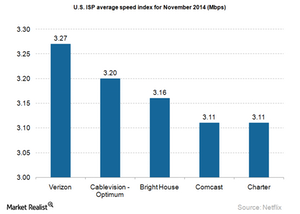 Verizon's Speed Match could compete with cable
By Puneet Sikka

Nov. 20 2020, Updated 5:02 p.m. ET
Speed Match service will benefit people who share content on internet
In Part 1 of this series, we learned that cable companies such as Comcast Corporation(CMCSA) and Time Warner Cable Inc. (TWC) dominate the US broadband market even though Verizon Communications Inc.'s (VZ) FiOS service has been progressing rapidly.
In July 2014, Verizon introduced an innovative service called Speed Match, which allows customers to receive upload speeds that match their download speeds. For example, Verizon used to sell 15 to 5 Mbps (megabits per second) plans. That means a download speed of 15 Mbps and and upload speed of 5 Mbps. With Speed Match, customers get 15 Mbps for both downloads and uploads.
This is a timely service offering from Verizon given that people are increasingly using the Internet to share content. People can now benefit from faster video uploads, faster sharing of files on Facebook, Inc. (FB) or Twitter, Inc. (TWTR), and faster response time while playing online games.
Article continues below advertisement
Verizon's FiOS service taking rapid strides ahead recently
Verizon's FiOS service has improved tremendously in the last few months. According to a report from Netflix, Inc. (NFLX), Verizon's FiOS service is now the highest-ranked US Internet service provider in terms of average speed in Mbps. The chart above shows how Verizon's speed compares with the top five players in this market, including Cablevision Systems Corporation's (CVC) Optimum, Bright House, Comcast, and Charter Communications, Inc. (CHTR).
Clearly, services such as FiOs Quantum and Speed Match are improving service at Verizon. To give you an idea, in July of this year, it was ranked only 12th in terms of average speed in Mbps. To learn more about this, read Why improving FiOS broadband service matters for Verizon.