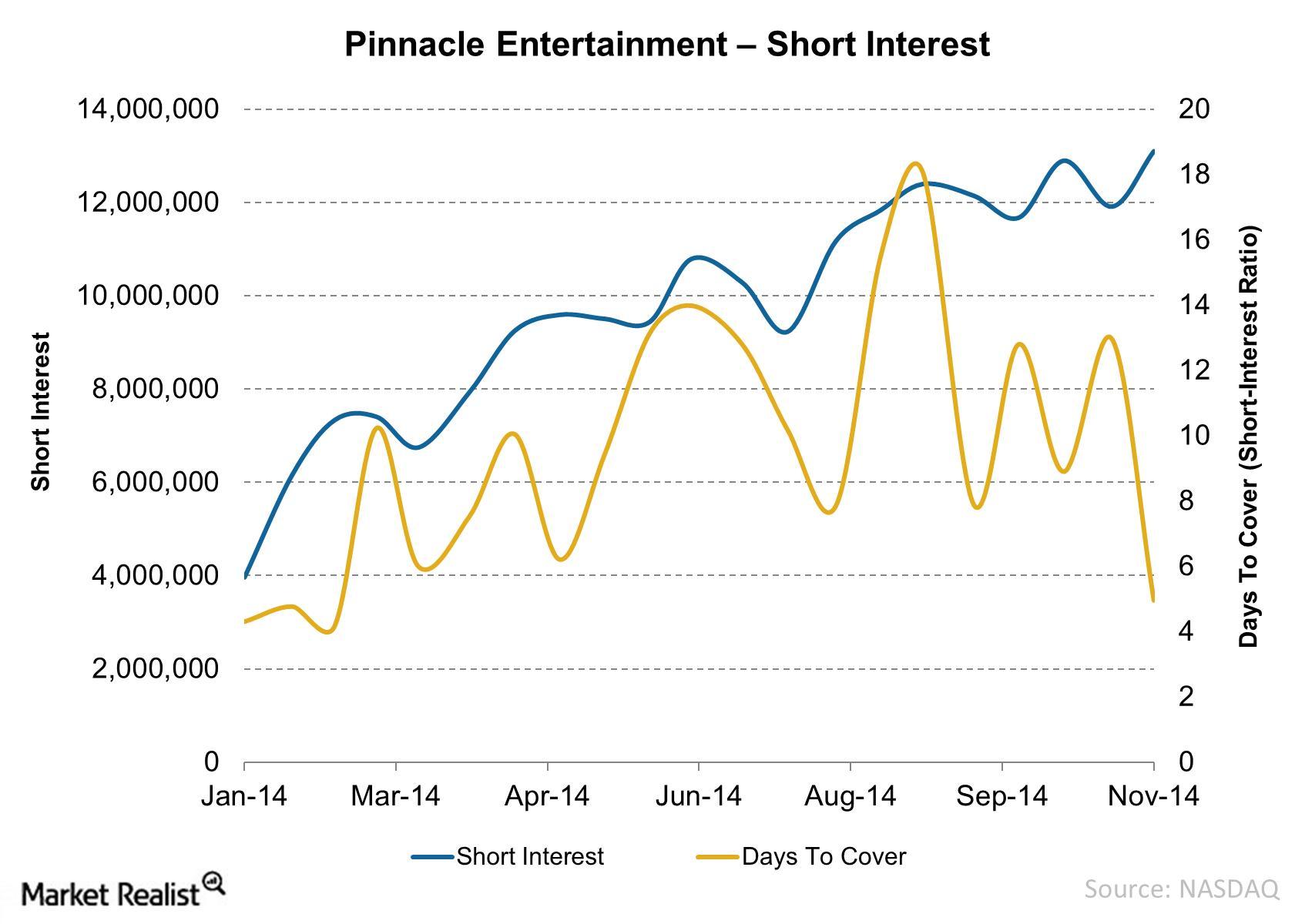 Shorting Pinnacle's stock could be difficult to cover
By Shawn Bolton

Dec. 17 2014, Updated 9:45 a.m. ET
About short selling and short interest
Short selling allows the seller to profit when the stock price is declining. The seller does not own the stock and anticipates that the price will fall. He or she could borrow the stock from a broker or dealer. Alternately, he or she could sell the stock and collect the proceeds.
When the stock price declines, the seller closes out the position by buying the stock on the open market at the lower price. Then, the seller returns the stock to the dealer or broker.
The difference between the sell and buy prices of the stock results in a realized gain for the short seller. However, if the stock price rises unexpectedly, the short seller will lose money because he or she will have to buy the stock back at a higher price.
Short interest is the number of shares that have been sold short, but that have not yet been closed out or covered.
The graph above shows the short interest for Pinnacle Entertainment (PNK) since January 2014. As of November 14, 2014, PNK's short interest stood at 13,098,874 shares, which is about 23% of the company's free float.
However, for PNK peers Boyd Gaming (BYD) and Penn National Gaming (PENN), short interest hovers around 9% of their free float. VanEck Vectors Gaming (BJK) and the Consumer Discretionary Select Sector SPDR Fund (XLY) invest in leisure companies like these.
Article continues below advertisement
About the short-interest ratio
The short-interest ratio is the number of shares sold short (or short interest) divided by the average daily volume. This is also known as the days-to-cover ratio.
Based on a stock's average trading volume, the short-interest ratio determines how many days it would take for short sellers to cover their positions. The higher the short-interest ratio, the longer it will take the short seller to buy back the borrowed shares.
PNK's short-interest ratio stood at about five days as of November 14, 2014, based on its average volume of 2,643,272 shares. This means that it would take about five days for the short seller to cover his or her borrowed position by buying PNK's shares.
The drop in PNK's short-interest ratio from 13 days as of October 31, 2014, to five days as of November 14, 2014, was mainly due to improvements in the average daily trading volume. Covering the short position could become difficult if the short-interest ratio goes beyond eight days.