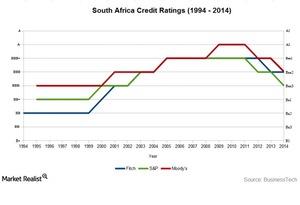 Why ratings agencies are downgrading South Africa
By Surbhi Jain

Dec. 18 2014, Updated 5:14 p.m. ET
Economics bear upon an economy's ratings
The economic and structural factors discussed in Parts 1 to 5 of this series have all contributed to creating a generally negative outlook for South Africa. This is also reflected in the recent downgrades of the country's ratings by prominent rating agencies. A credit rating downgrade severely hampers the ability of an economy, its public sector enterprises, and its private sector to raise capital from abroad. It also has a negative impact on investments into the area.
ETFs with exposure in Africa include the iShares MSCI South Africa ETF (EZA), the VanEck Vectors TR Gold Miners ETF (GDX), the VanEck Vectors Junior Gold Miners ETF (GDXJ), the VanEck Vectors-Agribusiness ETF (MOO), and the iShares North American Natural Resources ETF (IGE).
Lower credit ratings force the rate of borrowing upward, making it more expensive for an already financially distressed economy to borrow money.
Article continues below advertisement
Rating agencies downgrade South Africa
Rating agencies are downgrading South Africa's sovereign debt because of worsening government finances. The downgrades are mainly driven by deteriorating economic growth, coupled with rising pressure on the government's budget deficit and the growing vulnerability of the current account deficit.
South Africa's economy has been hit by slower-than-expected growth due to the detrimental impact of the five-month platinum sector strike on the economy. Other factors include labor unrest in other sectors, recent electricity blackouts in the first week of December, and generally weak local and global demand.
Impact of rating downgrades
Rating downgrades made South Africa's economy more vulnerable to capital outflows, rand depreciation, and rising budget and current account deficits, as well as other factors. Despite successive sovereign credit rating downgrades this year, South African bonds are still included in Citigroup World Government Bond Index (or WGBI) and have the potential to attract investors.
To learn more about the WGBI, refer to the next part of this series.