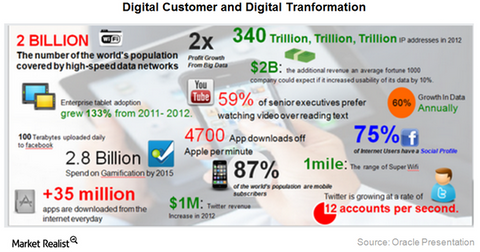 Why Oracle integrated Marketing Cloud with Box
By Anne Shields

Updated
Oracle Marketing Cloud integrates with Box
On September 25, 2014, Oracle (ORCL) announced that it would again integrate Marketing Cloud with Box. Previously a vendor in the Oracle Marketing Cloud, Box is a cloud-based content management service provider for businesses, and the new integration features will be available in spring 2015.
Box is a leading player in the business file share and collaboration market, with IBM (IBM) and GE (GE) as its major customers. Salesforce.com (CRM) provided partial funding to Box.com.
Article continues below advertisement
Partnership benefits Marketing Cloud
Through leveraging Box, marketers can save collateral into Box folders that they can share with designers and other stakeholders outside the immediate user base. Oracle Marketing Cloud customers will benefit from this integration, as they can develop content with commonly used tools such as Microsoft (MSFT) Office products and PDFs. Users can instantly convert these into HTML5, which simplifies the creation of effective marketing campaigns.
Folders in Box also automatically sync with Oracle Marketing Cloud's content store. This implies that external agencies with no direct access to the content store will be able to update it automatically. Folders can be made available for campaign usage on Oracle's cross-channel marketing platform.
Capabilities
The rapid growth in the digital market has led to several requirements on the storage front. The integration of Marketing Cloud with Box's storage platform enables marketing teams to store, edit, and collaborate on their marketing content before sending it out through Eloqua's B2B marketing automation platform.