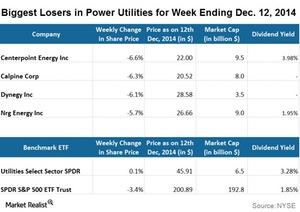 NRG, Calpine, and Dynegy extend losses for second week in a row
By Matt Phillips

Dec. 4 2020, Updated 10:53 a.m. ET
Biggest losers in the utilities sector for the week
The week ending December 12, 2014, witnessed another week of pain for unregulated power players. Three out of the top four losers were unregulated power producers. The other loser in the sector was CenterPoint Energy, Inc. (CNP), a diversified power and gas utility company. CenterPoint Energy fell by 6.6% and was the biggest loser of the week.
Article continues below advertisement
Unregulated power companies still not out of the woods
Unregulated power companies continued their slide in the markets. For the second week in a row, unregulated power companies severely underperformed compared to the regulated power companies.
Dynegy Inc. (DYN), NRG Energy Inc. (NRG), and Calpine Corporation (CPN) were among the top four losers in the utility sector for the second successive week. While Calpine Corporation has declined by 10.6% in two weeks, NRG Energy and Dynegy have slid by as much as 14.7% and 13.8%, respectively. For the week ending December 12, 2014, Dynegy and Calpine fell by 6.3% and 6.1%, respectively. NRG Energy lost 5.7% during the week.
The unregulated power companies are considered riskier stocks than the regulated power companies owing to the volatile nature of their earnings.
Stocks fell at a time when the utility sector was stable compared to the S&P 500. The Select Sector Utilities Select Sector SPDR (XLU) was up by 0.1% during the week, while the SPDR S&P 500 ETF Trust (SPY) was down by 3.4% for the week.
The SPY is an ETF that tracks the S&P 500 (SPX) benchmark index and the XLU is a key ETF in the power utility industry.