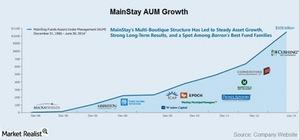 New York Life set to acquire IndexIQ to enter ETF space
By Surbhi Jain

Updated
New York Life to enter ETF industry
New York Life Insurance Company is set to join the ~$2 trillion US exchange-traded funds (or ETFs) market. The country's largest mutual life insurance company, New York Life is one of the largest life insurers in the world and ranks 89 on the 2013 Fortune 500 list. As of 2013, the company had a record of $425 billion worth of assets under management, with an asset valuation reserve growing at 8%. Its investment management business currently has more than $542 billion in assets under management.
The firm has been aggressively pinning asset managers via acquisitions in recent years, including Dexia Asset Management. It also formed partnerships with fast-growing managers, including Marketfield Asset Management.
Article continues below advertisement
New York Life seeks to acquire IndexIQ
On December 4, New York Life announced its plans to acquire ETF provider IndexIQ as part of its strategy to enter the rapidly growing ETF space. When the deal goes through, IndexIQ will be integrated into New York Life Investment Management (or NYLIM) and will be marketed through its MainStay Investments affiliate.
NYLIM is the third-party global asset management business of New York Life. MainStay is best known for its $11.9 billion MainStay Marketfield alternative fund. Overall, the MainStay business manages over $100 billion in assets under management (or AUM), according to a October 2014 Morningstar report.
IndexIQ and MainStay
IndexIQ is expected to add $1.5 billion to MainStay's $101 billion AUM. Its flagship fund IQ Hedge Multi-Strategy Tracker (QAI) is considered to be the S&P 500 Index (SPY) (IVV) (VOO) of the hedge fund market. You can read more about the QAI in Part 5 of this series.
The transaction is expected to close in the first half of 2015, according to the company's press release. New York Life's move marks the second acquisition in the ETF industry in as many months. In February 2014, the company had acquired Dexia Asset Management, a leading international asset manager.
IndexIQ has attracted interest from Goldman Sachs (GS) and New York Life as a possible takeover target to enter the ETF space.