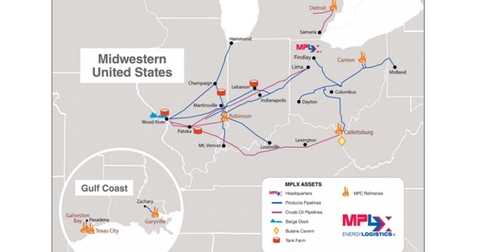 MPLX hydrocarbon-related assets at a glance
By Keisha Bandz

Updated
MPLX assets
As we saw in the first part of this series, MPLX LP (MPLX) owns interests in Pipe Line Holdings. This entity, in turn, owns 100% interest in Marathon Pipe Line LLC, or MPL, and Ohio River Pipe Line LLC, or ORPL. These, in turn, own the following assets:
A network of crude pipelines totaling 1,004 miles and product pipelines totaling 1,902 miles
A barge dock facility located on the Mississippi River with 84,000 of crude oil and product throughput
Crude oil and product storage facilities, or tank farms, located in Patoka, Wood River, and Martinsville, Illinois, and Lebanon, Indiana, that have approximately 3.3 million barrels of available storage capacity
The company also owns a butane storage cavern in Neal, West Virginia, with approximately 1.0 million barrels of storage capacity.
Article continues below advertisement
MPLX assets integral to MPC
As we also saw previously, MPLX assets are crucial for the business of its parent company, Marathon Petroleum Corporation (MPC).
Marathon Petroleum, or MPC, also has an ownership interest in Pipe Line Holdings. And it owns significant general and limited partnership interests in MPLX and all of its incentive distribution rights. In other words, MPC is as crucial to MPLX as MPLX is to MPC.
For example, the possibility that MPC might drop down its midstream assets presents a great opportunity to MPLX. According to the MPLX 10-K annual report, "given MPC's significant ownership interest in us and its stated intent to use us to grow its midstream business, we believe MPC will continue to offer us the opportunity to purchase additional midstream assets that it owns."
MPLX's revenue generation
MPLX generates its revenues by charging fees for transporting crude oil and other hydrocarbon-based products such as refined products. It also charges tariffs for storing crude and refined products at its storage facilities. Plus, MPLX operates additional crude and product pipelines owned by MPC and other third parties, through which it earns operating fees.
Key ETFs
MPLX LP is a component of the Global X MLP & Energy Infrastructure ETF (MLPX). Its parent company, MPC, is a component of the Energy Select Sector SPDR Fund (XLE). MPC is also a component of broader market ETFs such as the SPDR S&P 500 ETF Trust (SPY).
In the following part of this series, we'll continue our detailed look at MPLX's assets.