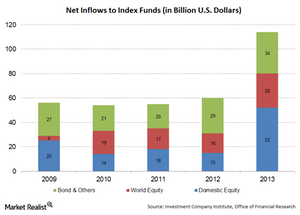 Low cost, human-error-free index funds gain in popularity
By Saul Perez

Nov. 27 2019, Updated 7:46 p.m. ET
Index funds carry lower investor costs
Index funds cost much less than actively managed funds. Costs include a management fee, a cost per transaction, and the cost of sales. This is because index funds don't need to spend large amounts of money researching asset classes. They simply replicate the index being tracked.
Index funds also have low turnover, and that leads to lower costs. Plus, these funds hold assets for longer time periods, which leads to investor tax savings. In this regard, index funds replicate ETFs such as the SPDR S&P 500 ETF Trust (SPY) and the iShares Core S&P 500 Index ETF (IVV)
Article continues below advertisement
Low cost is one of the reasons we're seeing growing confidence in index funds. Index funds have experienced net inflows in each of last five years, as the chart above shows. Popular index funds generally have expense ratios in the range of 0.10% to 0.20%, which is a fraction of what popular active mutual funds offer.
Index funds reduce the probability of human error
Index funds don't depend on fund managers to generate returns. Active funds depend on the decisions taken by fund managers to beat the benchmark returns. And all humans have inherent biases that can lead to bad decision-making. Indeed, the majority of active funds underperform vis-à-vis established benchmarks over the long-term horizon.
Active funds that perform well depend on the fund manager, who often gains cult status. When the fund manager retires or moves to another company, future returns come under question, and there is an outflow from the fund. Bill Gross, former manager of the PIMCO Total Return Fund, is a good example of this phenomenon. When Gross left PIMCO, the fund began to underperform, and investors withdrew.
Index funds allow investors to avoid such drawbacks. As a result, players that used to be primarily involved in active management, such as T. Rowe Price (TROW), Franklin Templeton Investments (BEN), and Legg Mason (LM), are now moving to the index fund space.