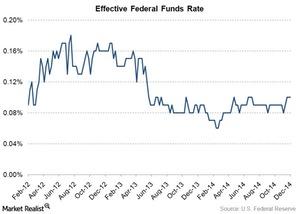 Why liquid alts may be preferred in a rising rate environment
By Surbhi Jain

Nov. 20 2020, Updated 11:36 a.m. ET
Liquid alternative investments
Liquid alternatives (or liquid alts) are alternative investments that provide daily liquidity. These are available through alternative investment vehicles such as mutual funds, ETFs, and closed-end funds. Liquid alts are also known as 40 Act funds because they were created by the US Congress in 1940. Launches of liquid alts funds have tripled since 2009, primarily because:
Investors' priorities have changed from investment returns to diversification and downside protection (or principal preservation). This is where liquid alts help to hedge.
In the recent past, investors have been facing extremely low interest rates, as well as slow and uncertain economic growth. Daily liquidity keeps investor confidence uplifted.
The investment management industry has been changing constantly, with a host of new products and portfolio strategies, leading to more liquid alt launches.
Article continues below advertisement
Liquid alts in rising rate environment
Liquid alternatives are in demand because they are a cheaper and more tax-efficient alternative to hedge funds. Traditionally, individual investors haven't been able to access these high-end strategies. With the launch of ETFs that are structured as liquid alts, investors now have ready and better access to these alternatives.
For example, IndexIQ's liquid alternatives continue to attract fixed income investors. The IQ Hedge Multi-Strategy Tracker ETF (QAI), the Hedge Market Neutral Tracker ETF (QMN), and the IQ Merger Arbitrage ETF (MNA) offer alternatives to bonds for those concerned about rising interest rates. Rising interest rates also tend to erode bond value.
Liquid alts are less volatile
IndexIQ CEO Adam Patti notes, "Liquid alternatives offer one potential way to address this issue since a rising rate environment historically has resulted in rising prices for this investment category. In addition to the yield, our alternative ETFs have generally demonstrated two other features likely to appeal to income-oriented investors: low volatility and a low correlation with both 10-year Treasuries (IEF) (TLH) and the overall equity market."
Liquid alts provide a way to generate income while preserving capital in the face of an anticipated rise in interest rates. Moreover, funds like the QAI have never paid out capital gains on portfolio turnovers, giving a huge tax alpha.
You can read our series 5 things for every investor's to-do list as 2014 draws to a close for tips on how to assess your investment portfolio before 2014 draws to a close.