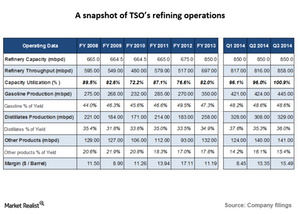 Tesoro takes sharp upturn in last three quarters
By Manas Chowgule, CFA

Dec. 15 2014, Updated 3:21 p.m. ET
Tesoro's operational performance
In our analysis of why Tesoro Corporation (TSO) has been performing so well in the stock market lately, let's start off with an analysis of the company's operational performance over the last few years.
Article continues below advertisement
Tesoro's capacity, throughput, and utilization
Since 2012, Tesoro (TSO) has seen a bump in its refining capacity, which rose from approximately 665,000 barrels per day (or bpd) in the prior years to ~850,000 bpd today.
In 2013, Tesoro sold its 93,000 bpd Kapolei refinery in Hawaii to Par Petroleum (PARR), and purchased BP Plc's (BP) 251,000 bpd Carson refinery in California.
Tesoro's throughput, or the amount of crude it processes, has also been rising steadily, from ~600,000 bpd in 2007 to ~858,000 bpd in the third quarter of 2014. This means that its utilization rate (throughput scaled by capacity) has risen from just less than 90% in 2007 to in excess of 100% in 3Q14. The rise occurs when higher efficiency use of equipment allows the operator to exceed originally rated capacity.
Sharp upturn in last three quarters
This trend of increasing throughput allows Tesoro to take advantage of increasing profits from processing each barrel of crude oil, or gross refining margins. As shown in the above table, that's exactly what's happened.
Tesoro's gross refining margins (or GRMs) turned up sharply in the last three quarters, rising from as low as $8.45 per barrel in the first quarter to ~$15.50 per barrel in the third quarter of 2014.
In the following parts of this series, we'll see how a combination of these factors has affected Tesoro's profits.
Top holding in key ETF
Tesoro Corporation (TSO) is currently the top holding of the Standard & Poors depositary receipt (or SPDR) S&P Oil & Gas Exploration & Production exchange-traded fund (or ETF) (XOP). Also among the fund's top five holdings are Valero Energy (VLO) and Marathon Petroleum (MPC), America's number-one and number-three independent refiners, respectively, with capacities of ~3 million bpd and ~1.7 million bpd, respectively.