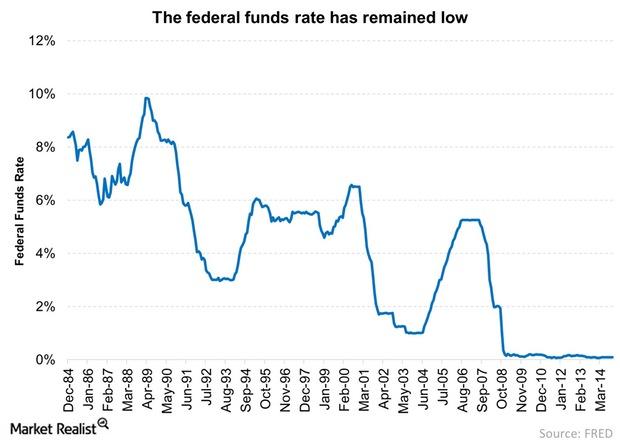 The Interest Rate Timeline Has Shifted
By Matt Tucker, CFA

Nov. 20 2020, Updated 12:41 p.m. ET
The Interest Rate Timeline Shift
Until Yellen's press conference comments, the Fed had not given any specifics on when it would implement a short term interest rate hike, stating instead that it would hold short term rates low for a "considerable time" after it ended quantitative easing (QE) purchases. During the press conference Yellen provided guidance that "considerable time" was about 6 months.
Article continues below advertisement
Market Realist – The interest rate timeline has shifted.
The graph above shows the history of the federal funds rate. The federal funds rate is a tool that the Fed uses to control the interest rate. The actual interest rate depends on the market. The rate has been close to zero for over six years. Along with QE (quantitative easing), the Fed has also kept the federal funds rate close to zero in order to stimulate the economy.
Keeping interest rates low has helped boost the US economy. This propelled US stock markets (SPY)(IVV) to all-time highs. Low interest rates have also allowed Treasury (TLT) and corporate bond (LQD) yields to stay on the lower side. The search for yield had led investors to risky assets like high yield bonds (JNK). This, in turn, led to a massive compression of the spread between Treasury yields and junk bond yields.
Although the Fed had mentioned that it would hike short-term interest rates six months after the end of QE3, there are several reasons why the Fed could keep rates lower for longer. The next part of this series explains in detail why the Fed has refused to hike the federal funds rate.