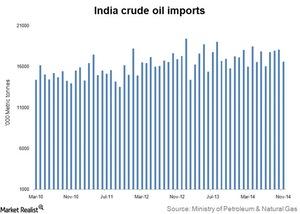 India oil imports rise with falling prices
By Katie Dale

Updated
The importance of oil imports
India is the world's fourth largest consumer of oil, according to data from the U.S. Energy Information Administration (or EIA). However, due to very limited oil resources, the country relies heavily on imports from Gulf countries. More than 70% of its oil needs are met through imports. It's believed that with the decline in oil prices, India's economic growth prospects and, by extension, its equity market performance is likely to improve.
Article continues below advertisement
November oil imports
According to data from trade sources, India's overall imports for the month of November totaled 3.86 million barrels per day (or bpd), a growth of about 6.8% from a year ago. For the period from January to November of 2014, total crude imports dipped 2.3% from the year-ago period. Data showed that Iran's share of Indian oil imports was about 7.1% in the first 11 months of the year compared to 5% last year.
Overall purchases from the Middle East declined by 7.7% from January to November, while oil imports from Africa and Latin America rose.
India imported about 38% more oil from Iran in the first 11 months of 2014, according to trade sources. This was due to an easing of Western sanctions earlier in the year over Tehran's disputed nuclear activities, which helped boost shipments.