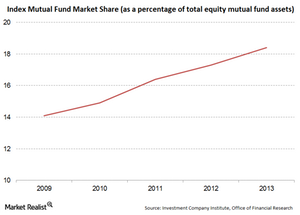 Index funds offer innovative products, remain competitive
By Saul Perez

Updated
Index funds have some advantages over exchange-traded funds
Index funds are likely to remain popular, regardless of the ever-increasing popularity of exchange-traded funds, or ETFs. The fact that big ETF players including BlackRock (BLK) and State Street (STT) haven't exited the index fund space is testament to this likelihood. Indeed, index funds have at least two unique advantages over ETFs:
ETFs are traded during the day and can experience high intra-day volatility. Index funds, traded only at the end of the day, do not experience this volatility.
For thinly traded ETFs, and during periods of high market volatility, the bid-ask spread can be high. Index funds don't experience this.
Article continues below advertisement
Index funds are innovating
Established index funds used to track only popular indices. In recent years, however, some funds have moved to fill product gaps and cater to diverse customer needs. Index funds' product offerings have evolved. For example, funds based on sector indices have been created, such as the First Trust NYSE Arca Biotechnology Index Fund. This fund focuses on a particular sector of the biotechnology industry.
Other index funds have innovated to include alternative investment vehicles such as real estate investment trusts, or REITs, like the Vanguard REIT Index Fund Investor Shares. There are also index funds that invest in leveraged assets, higher dividend stocks.
Staying competitive
All of this has helped index funds cover product gaps. And this innovation has increased the market share of index funds. As you can see in the chart above, the market share of index funds has increased over the years. It's grown from 14.1% to 18.4% in the last five years.
Index fund providers including BlackRock (BLK), Legg Mason (LM), and T. Rowe Price (TROW) continue to offer innovative products. This helps index funds compete with active mutual funds and ETFs such as the SPDR S&P 500 Trust ETF (SPY) and the Financial Select Sector SPDR Fund (XLF).