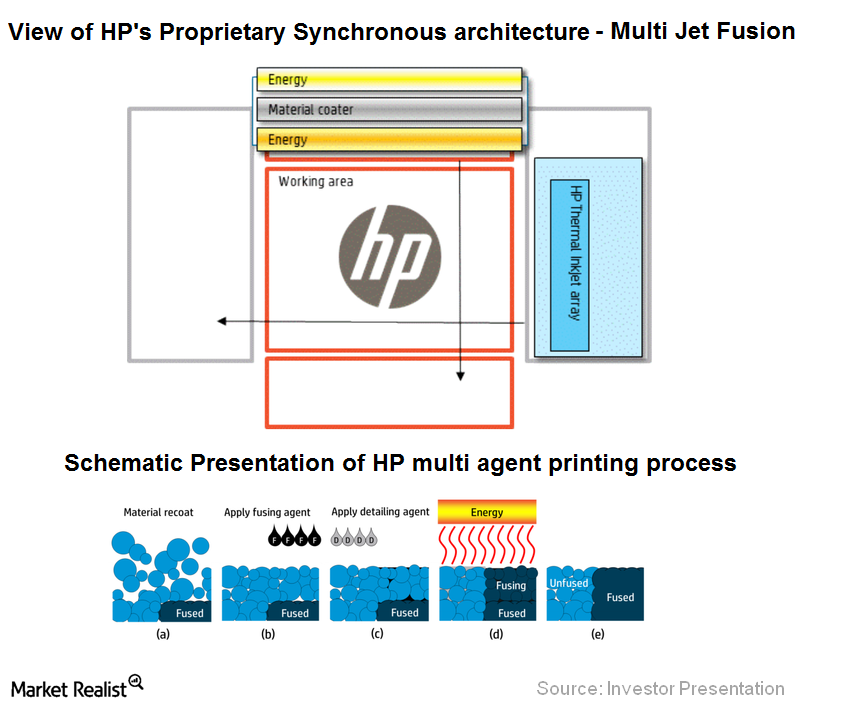 HP takes aim at 3D printing market with Multi Jet Fusion
By Anne Shields

Dec. 10 2014, Updated 12:00 p.m. ET
Multi Jet Fusion: HP divulges details about 3D printing technology
In early 2014, Hewlett-Packard Company (HPQ) CEO Meg Whitman shared the company's plans to enter the 3D printing market. In its 4Q14 earnings release, the company divulged details about its Multi Jet Fusion technology.
3D Systems Corporation (DDD) and Stratasys, Ltd. (SSYS) are leading publicly traded companies in the space. Hewlett-Packard Company, or HP, has sourced 3D printers from these companies in the past. Yet according to market intelligence firm IDC, HP leads the worldwide hardcopy peripherals market that includes printers, multi-function printers, and digital copiers. The company has a 40% market share, and it's followed by Canon Inc. (CAJ) that holds a 21% share. Epson, Brother, and Samsung Electronics, Ltd. (SSNLF) respectively have 13%, 7%, and 5% market shares.
Article continues below advertisement
How Multi Jet Fusion technology works
Multi Jet Fusion is a layer-by-layer manufacturing process. It uses an HP thermal inkjet carriage to lay down a series of fusing and detailing chemical agents over a layer of powder. Then, a second carriage makes a pass and hits the chemical agents with an energy source. This leads to the fusion of one layer to the previous layer, followed by the deposit of a fresh layer of powder to repeat the process.
The above presentation shows a cross-section of the HP's Multi Jet Fusion 3D printing process. HP aims to enter the 3D printing market with this technology in 2016.
Multi Jet Fusion technology claims to revolutionize the 3D industry
Multi Jet Fusion, can use up to 10,000 inkjet nozzles at a time. It's capable of printing over 30 million drops per second across each inch of the build area, with a five-micron tolerance. This makes Multi Jet Fusion up to ten times faster than leading laser sintering and extrusion-based 3D printers. Having said that, one of the limitations of laser sintering and extrusion-based 3D printers is that they rely on focused energy at a single point.