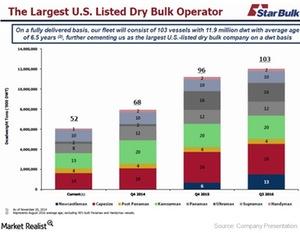 A growing fleet increases Star Bulk's voyage revenues
By Katie Dale

Updated
Revenue growth
For the third quarter of 2014, Star Bulk Carriers Corp. (SBLK) recorded total voyage revenues of $36.5 million compared to $17.3 million for the third quarter of 2013. This increase is attributed mainly to Star Bulk's increase in its average number of vessels to 31.5 in the third quarter of 2014, from 13.0 vessels in the third quarter of 2013.
Revenue growth was also driven by Star Bulk's acquisition of Ocean Bulk Carriers LLC and Ocean Bulk Shipping LLC, referred as the Pappas Companies and affiliated with the family of Mr. Pappas and certain of the Excel vessels. The company earned an average time charter equivalent (or TCE) daily rate of $11,159 in the third quarter of 2014 compared to $14,652 in the year-ago quarter.
Article continues below advertisement
Fleet employment
Driven by a diverse fleet, Star Bulk serves almost every major charter around the globe. From a commercial standpoint, Star Bulk is currently exploring opportunities for long-term contracts with major dry bulk consumers and producers, which should provide the company with steady flows of cargo and business.
Spot days and outlook
Currently, including the influx of the new fleet, Star Bulk has secured almost 71% of the limited remaining available days in 2014, 9% of those days in 2015 and just 2% in 2016. This indicates that the company still has available days to take advantage of the rising spot market rates in the upcoming years. Overall, until the third quarter of 2014, the company's total contracted revenue stood at approximately $72.8 million. Diana Shipping Inc. (DSX), Knightsbridge Shipping Ltd (VLCCF), Navios Maritime Holdings Inc. (NM), and Eagle Bulk Shipping Inc. (EGLE) contracted revenues of 7.7%, 94.3%, 24.8%, and (23.4%), respectively.
Since Star Bulk's vessel acquisition, the company's earnings and cash flow have experienced a significant upside in an improving market environment. On a fully delivered basis, the company expects to have about 37,000 spot days in 2017 after the delivery of all newbuilding vessels.
An every dollar movement in spot rates will have a material impact on Star Bulk's cash flow. For example, a $1,000-per-day increase in cape rates combined with the $400-per-day increase in Panamax and Supramax rates will translate into an increase in earnings before interest, taxes, depreciation, and amortization (or EBITDA) of approximately $23 million once the fleet is delivered.