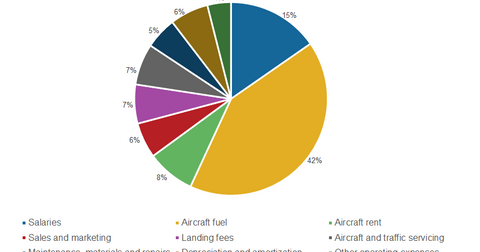 Gol's operating costs outpace its revenue
By Teresa Cederholm

Dec. 3 2014, Updated 9:00 p.m. ET
Increase in operating expenses
Gol's operating expenses have increased at a four-year compounded annual growth rate (or CAGR) of ~12%, which is higher than the revenue growth of ~10% during the same period. For more details on revenue growth, refer to part four of this series. Operating expenses increased from 5,612 million real (93% of revenue in FY09) to 8,690 million real (97% of revenue).
Unit costs increased at a CAGR of ~6% from 13.9 centavos in FY09 to 17.5 centavos in FY13, compared to a unit revenue increase of 4.8% during the same period.
Article continues below advertisement
Fuel, salaries, and other costs
Fuel and salary costs comprise more than half of Gol's total operating expenses. Aircraft fuel cost has been the largest cost component, comprising ~42% of Gol's total operating expenses in FY13. We will explore further details on fuel costs in the next article.
Salary wages and benefits, the next largest cost comprising around 15% of total expense in FY13, are growing at a lower rate (~5%) compared to fuel. Gol's salary costs are lower compared to its US peers. Employee costs of major US airlines, including Delta (DAL), American (AAL), United (UAL), Southwest (LUV), Alaska (ALK), and JetBlue (JBLU), are increasing due to higher wages and profit sharing expenses.
Gol's salary, wages, and benefit costs have decreased by 11.2% year-over-year in FY13. This was due to a reduction in workforce to match the capacity reductions in the domestic market, as well as the payroll tax exemption under the Brasil Maior payroll tax exemption program.
All other expenses, including aircraft rent, sales and marketing, landing fees, and aircraft servicing and maintenance individually comprise less than 10% of total operating expenses.
Gol and LATAM are Brazil's major airline companies whose stocks are held by ETFs. ETFs such as the Brazil Small-Cap ETF (BRF) and the Brazil Consumer ETF (BRAQ) hold shares of Gol. The Guggenheim Frontier Markets ETF (FRN) and the EGShares Emerging Markets Consumer ETF hold shares of LATAM Airlines.