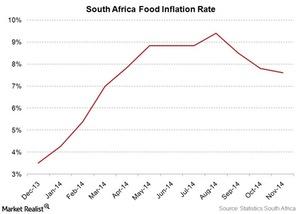 Food inflation is key indicator of economy in South Africa
By Surbhi Jain

Updated
Food prices critical to South Africa
The price of food is a critical and sensitive issue to the people of South Africa. In addition to its crucial affordability to the average person, it has larger and dire consequences from an overarching economic perspective.
Article continues below advertisement
Food inflation
Food inflation in South Africa stood at 3.5% in December 2013, peaked at 9.39% in August 2014, and settled at 7.6% in November 2014.
Some food price increases were attributable to retailers who were forced to pass on some of their higher administration and labor costs to consumers. However, a significant portion of the rise in food prices can also be attributed to:
A spike in maize prices
The failure of both subsistence and commercial agriculture
The failure of government intervention strategies to bolster food production due to a lack of monetary inputs
Maize's importance in South Africa's economic equation
Maize is a critical piece of the agricultural and economic equation in South Africa. White maize is a staple food in one form or another for the majority of South Africans, and yellow maize is the primary component in the production of meat, poultry, and dairy products.
South Africa ranks ninth in corn production in the world, producing 13.5 million MT (metric tons), according to the United States Department of Agriculture. The US (SPY), China (FXI), and Brazil (EWZ), stand at the first three positions with 3.6 billion MT, 2.1 billion MT, and 0.75 billion MT of production, respectively.
Agriculture challenges
One of the biggest challenges confronting South African agriculture is the reality that commercial farmers are leaving agriculture because it is not profitable anymore. Plus, some commercial farmers have been restricted from entering farming by the government's land redistribution policy. There has also been no recent, significant research and development in the area.
Investors in the VanEck Vectors-Agribusiness ETF (MOO), which is invested up to 0.46% in Africa, should be wary of their holdings. Since food inflation impacts overall economic growth, investors in ETFS invested in South Africa such as the iShares MSCI South Africa ETF (EZA) and the iShares North American Natural Resources ETF (IGE) should also take heed. The risk of stagflation looms over the commodity-rich country, worsening the economic situation for South Africa.