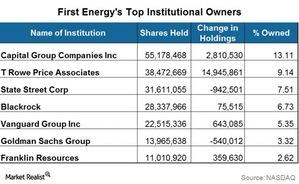 Who are First Energy's biggest owners?
By Matt Phillips

Nov. 27 2019, Updated 7:18 p.m. ET
First Energy's institutional ownership
As of September 30, 2014, institutions own 76.9% of First Energy Corporation's (FE) total outstanding shares. A total of 736 institutions hold more than 323 million shares of First Energy. The company has 420.7 million outstanding shares at the end of third quarter of 2014.
A high interest of institutional investors in a company is often seen as advantageous for investors. Influential institutional investors can form cartels and have the ability to arm twist management and get things done.
Article continues below advertisement
Institutions with high stakes in First Energy
Among institutions, Capital Group Companies, Inc. has the highest stake in First Energy, with 55.2 million shares, or 13.1%. First Energy's owners include some of the biggest asset management company in the world, including BlackRock, Inc. (BLK), Goldman Sachs Group (GS), and State Street Corporation (STT).
First Energy's institutional ownership is in line with the average for all companies that are part of the Standard & Poors depositary receipt (or SPDR) Utilities Select Sector (XLU). The average institutional ownership is 76.2%.
Investors are waiting and watching
It seems that First Energy's institutional investors have adopted a wait and watch policy. First Energy's institutional ownership has gone up by only 3.7% since the beginning of the year. At a time when the power utility sector has performed better than the broader market, this is relatively low.
First Energy's earnings turnaround and the way its push to regulated operations plays out in the coming quarters will be key triggers for institutions to increase their stakes in First Energy.