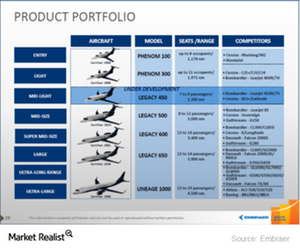 Embraer's Executive Jets segment
By Ally Schmidt

Dec. 23 2014, Updated 2:02 p.m. ET
Embraer's executive jets
After its Commercial Aviation and Defense and Security segments, Embraer's Executive Jets segment is the company's third-largest segment with 21% of the company's total revenues in 2013.
Embraer (ERJ) entered the market of executive and business jets in 2000 with the launch of the Legacy 600. Through this segment, the company is involved in the development, production, and sale of business jets; the provision of support services related to this sector of the market; and aircraft leasing. The company has seen successful acceptance of its products such as the Phenom 100, Phenom 300, Legacy 450, Legacy 500, Legacy 600, Legacy 650, and Lineage 1000, which have been placed at the top of their categories.
Article continues below advertisement
Executive Jets Segment performs well
Embraer's Executive Jets segment has performed quite well in the past three years. Revenues have increased by 14% compounded average growth in the past three years. Operating income for the same period has increased by 20% compounded average growth.
Recently, the company received major orders from Japan Airlines (JAPSY) for 15 E-jets (E170 and E190), an optional 12 more from the E-Jets family, and the other from Republic Airways for 50 firm E175 jets that will be operated for United Airlines under the United Express brand. The company also performed the first metal cut of the E-Jets E2 at its plant in Évora, Portugal. Many parts for E2 jets are supplied by United Technologies (UTX) and Triumph Group (TGI), which are a part of the Dow Jones Industrial Average ETF (DIA).
Agricultural aviation
Embraer also develops aircraft called Ipanema for agricultural purposes, mostly domestic. The aircraft is mainly used for aerial application, particularly crop dusting, which helps avoid crop damage due to land machines. It's also used to spread seeds, stock rivers, and combat larvae and disease-bearing insects or animals. The aircraft is also used for basic firefighting. Ipanema is considered a market leader with 40 years of continuous production and more than 1,100 units sold. It represents about 75% of the Brazilian fleet in this segment.
In the next article of this series, we'll look at Embraer's rivalry with Bombardier (BDRBF).